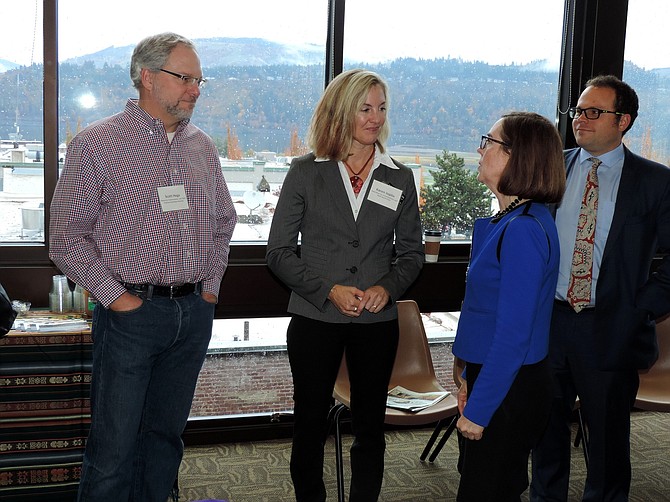 Gov. Kate Brown spent Wednesday in Hood River, focusing on health and education. Brown toured Hood River Middle School with Principal Brent Emmons, Superintendent Dan Goldman and others, following a meeting at Hood River Library with participants in the PacificSource Community Solutions Columbia Gorge Coordinated Care Organization. The Gorge CCO serves more than 13,300 Oregon Health Plan members in the greater Gorge region. With Brown was Andy Slavitt, acting director of Centers for Medicare & Medicaid Services (CMS) under the U.S. Department of Health and Human Service.
The governor said her briefing in Hood River was instructive in many ways, including looking at the Gorge CCO as a model for others.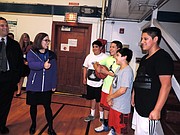 "I learned some things today: the level of commitment and collaboration and collective impact here is absolutely extraordinary," she said. "I would be looking at other states and say, 'this is the model I would look to.'" In Oregon, she said, "We have one CCO struggling, and there are pieces we can take from here and help lift them up."
Those meeting with the governor included Gorge CCO staff, County Commissioners Karen Joplin of Hood River and Scott Hege of Wasco, and representatives of Oregon Health Authority, PacificSource, Providence Health, and Columbia Gorge Health Council (CGHC). Joplin also serves on the CGHC, which oversees the work of the CCO. The Columbia Gorge Health Council consists of local leaders in health care along with county and community representatives.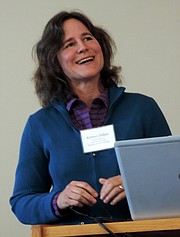 Dr. Kristen Dillon, director of the Columbia Gorge CCO, and others presented Brown and Slavitt with an update on the work of the CCO and the services and finances of the local CCO. Slavitt oversees programs, such as CCOs, that provide access to quality health care for 140 million Americans, including Medicaid, Medicare, the Children's Health Insurance Program, and the Health Insurance Marketplace.
"We're thrilled that it's working," Dillon said, pointing to the collaboration that involved revising the original requests for $1.5 million private and federal grants, "because we needed something to provide for the health needs for all residents, and the CCO work has been consistently doing that."
Dan Stevens, an executive vice president with PacificSource, said the local plan reflects "community values-based goals," and his company realized that all concerned would benefit by sharing control over the grants to the CGHC.
The Gorge CCO was the only one to meet all 17 measures published by Oregon Health Authority. Those measures include access to care, alcohol and drug misuse screening, colorectal care services, mental health hospitalization follow-up, depression screening, and pre-natal and post-partum care services.
Dillon pointed to particular success in the past year in addressing another measure, adolescent well care visits, by creating incentives for families of student athletes to access full well care checkups rather than relying on less-exhaustive athletic health screenings. As a result, the percentage of youths receiving well care has risen from 26 to 46 percent.
The governor said, "We would expect to see better outcomes over the next few years, and this community is clearly using data metrics and they are staying focused. We learned a whole lot of lessons: trust and transparency.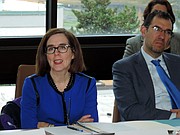 "We'll be able to replicate in other communities, and some of it will be unique to this community, who are so committed. It is really clear that the work being done here is somewhat unique on couple of levels," Brown said.
"One, the organization itself is different, the insurance company separate from the board, but the other piece is the regional approach with Skamania and Klickitat counties. For me from a regional perspective, that makes a whole lot of sense. And then there are some other pieces that have been very effective.
Clearly here, their ability to use community health workers and have those folks be the connectors to families in the area. It is just really exciting work happening here."