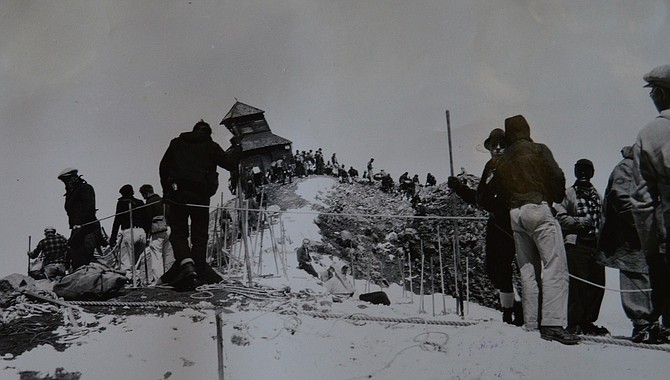 The community is invited to gather at the Crag Rat Hut in Pine Grove this Sunday, Oct. 30, to help one of Hood River's oldest organizations celebrate their 90th anniversary.
The Crag Rats formed in 1926, an informal band of mountaineers and skiers who came together for outings on Mount Hood, led by Andy Anderson. But 10 days after forming, they were called on by the county sheriff to search for a missing 7-year-old girl. They found her — and when asked by reporters what group was responsible, Anderson replied, "Crag Rats," a nod to his wife, who had observed that the men were "rats for climbing crags every weekend" to get out of doing household chores.
The gathering is an opportunity for the group to "show the public who we are and what we do," said longtime Crag Rat Bill Pattison.
Of special interest will be the displays of rescue mobile equipment in the parking lot and first aid and rescue equipment inside the lodge. Both displays will feature current and antique items. Speeches from various organizations are also planned.
The Crag Rats span four generations, Pattinson added, with three still living and participating.
"Not too many organizations can say that," he smiled.
Of the group's 108 members, Pattison said 60 are active and 30 regularly on call for search and rescue missions — all on a voluntary basis. The group has gone from an average of six rescue missions a year in the 1930s to 30 today. Rescues can happen anywhere — on the mountain, in the forest, or Gorge cliffs.
Those missions can happen any time, day or night, and the Crag Rats have gone from the old-time phone tree system to one of blanket texts — one example of how technology has changed the past 90 years.
For those not familiar with the work of the Crag Rats, or who are wanting to learn more, the gathering will be a chance to see that many facets of the group. And for the group itself, it's getting everyone together to celebrate the past 90 years and look forward to the next 90.
"It's a gathering of all of the Crag Rats — because there are so many things we do," said Pattison.
"It's having everybody together."