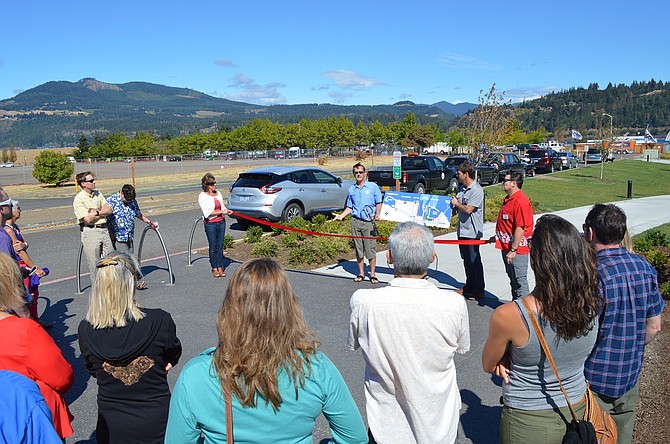 After decades in the making, a continuous path spanning the Hood River waterfront has come into shape.
Pedestrians can enjoy a nearly 3-mile stroll along the Columbia River shoreline from Best Western Plus Hood River Inn to the Hook, a sandy curl of land at the waterfront's west edge.
The trail connects many popular elements of the waterfront — from west to east: The Hook, Waterfront Park and Event Site, Nichols Basin West Edge Trail, Hampton Inn, the Marina, Button Bridge, and the History Museum of Hood River County. The final section of paved trail runs under the Hood River-White Salmon Interstate Bridge to the dock-lined Best Western Plus Hood River Inn.
On Wednesday morning, leaders involved in the trail's development gathered at Nichols Plaza to celebrate the path's completion with a casual ribbon cutting ceremony.
Port Commissioner Rich McBride briefly discussed the trail's history and the community partnerships that made it possible.
"This is absolutely the icing on the cake" in context of the waterfront, McBride said, applauding the work of residents since the 1980s to develop the waterfront from industrial land to mixed use and community access.
The event honored the port and its waterfront committee, City of Hood River, Hood River Valley Parks and Recreation District, Oregon Parks and Rec, Oregon Department of Transportation, Columbia Gorge Windsurfing Association, Hood River Valley Residents Committee, Hood River County Chamber of Commerce, Best Western, Hampton Inn, U.S. Rep. Greg Walden, U.S. Sen. Ron Wyden, and other citizens involved in the trail's development.