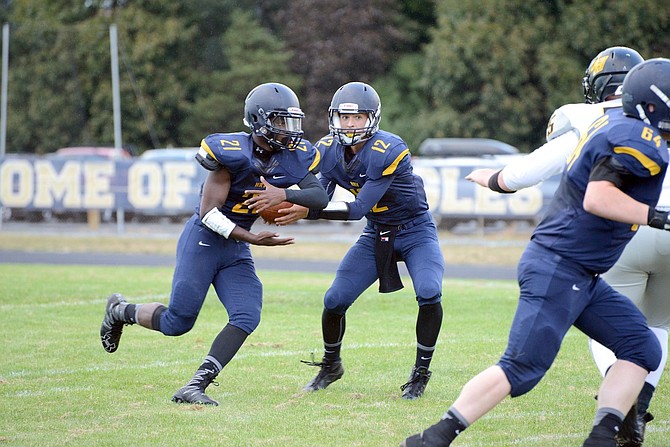 The Hood River Valley Eagles got off to a good start in their season-opening nonleague football game Friday versus the St. Helens Lions as they took an early lead after scoring on their first possession.
Unfortunately, a young Eagles team (eight seniors), struggled for the remainder of the contest. A much more experienced (26 seniors) St. Helens squad had an overall dominating performance in a 47-13 win at Henderson Community Stadium.
The Eagles, guided by coach Caleb Sperry, will try to bounce back from the loss and focus on perhaps getting their first win when they travel to Gresham Friday to play the Reynolds Raiders (1-0) at Mt. Hood Community College. Reynolds, of the Class 6A Mt. Hood Conference, won its opener last Friday 40-25 on the road over the Canby Cougars (0-1).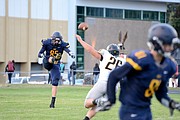 "We did a lot of good things, but we also did a lot of things that indicate there's room for improvement," said Sperry. "One of our biggest problems was that we did a really bad job of tackling at the point of contact, so we'll have to focus on improving that. We had some undisciplined play (10 penalties for 53 yards), which is something that we have control of that we can improve. We have an opportunity to try and get better when we play another game on Friday. These guys are hungry to win and they're excited about the football season and they'll be focusing on playing better against Reynolds."
HRV took the opening kickoff from St. Helens and marched downfield on a 68-yard, 12-play scoring drive to gain the initial momentum. Sophomore quarterback Caden Leiblein (15-for-22 passing, 216 yards) capped the series by throwing an 11-yard touchdown pass to junior receiver Tanner Wells (seven receptions, 107 yards). HRV was unable to convert on a two-point conversion though, but the Eagles led 6-0 with 7:16 left in the first quarter.
"We had some good drives and we had some good plays and we had some good defensive stops, so there was definitely a lot of good things that we can build on to help us continue to get better," said Sperry. "I think that (quarterbacks) Caden and Trenton Hough both did pretty good. They're both inexperienced and they just have to keep improving along with everybody else on our team. We're probably not in as good of conditioning shape as we should be, so that's something that we'll have to focus on too."
The Lions (1-0), a 5A state playoff team last year, appear headed in that same direction again this season after displaying an overpowering offensive and defensive effort against HRV. St. Helens responded to HRV's quick score with a scoring drive of its own, going up 7-6 with 4:38 remaining in the first quarter.
It was the first of 47 straight points scored by the Lions, who led 15-6 at the end of the opening quarter. St. Helens took a 21-6 halftime lead and then continued to roll offensively in building a 34-6 lead after three quarters. The Lions extended their advantage to 47-6 in the fourth.
Despite the disappointing outcome, HRV battled back in the final minutes. A two-play, 66-yard series, highlighted by Leiblein's 60-yard pass to junior receiver/defensive lineman Connor Coerper (three receptions, 85 yards), provided the Eagles with a little late-game momentum on an impressive touchdown drive.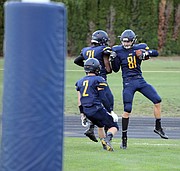 "Despite what's up on the scoreboard, our team really showed lots of potential," said Coerper. "We gave it everything we've got and we tried our best to win the game. He's (Leiblein) young and it was his first varsity game, but he's learning and I think that he's going to be a great quarterback. (The Lions) have a big quarterback (6-foot-1, 250-pound senior Levi Norton), who is very quick and athletic. There were a few times that Wyatt Mansfield and I would try to tackle him, but he was just tough to bring down. He's so strong and powerful and he was able to just bust through our tackles."
Leiblein, who was competing in his first ever varsity contest, tossed a six-yard TD pass to junior running back Michael Jones (nine carries, 42 yards rushing, five receptions, 42 yards). Sophomore placekicker Manuel Trejo kicked the point after touchdown, making it 47-13 with 3:04 left in the game.
"It's Friday night lights, which is such an amazing experience," said Coerper. "Despite what's up on the scoreboard, our team really showed lots of potential. We have lots of good players and we'll come out and play with a higher confidence level in our next game."
The Eagles were unable to overcome some costly mistakes (two pass interceptions, fumble), which prevented them from making it a closer contest. St. Helens outgained HRV in total offense, 410 yards to 326 yards. The Lions capitalized on an impressive ground game as they totaled 280 yards rushing.
HRV senior center/defensive lineman Wyatt Mansfield led the Eagle defense with three tackles and one and a half sacks.