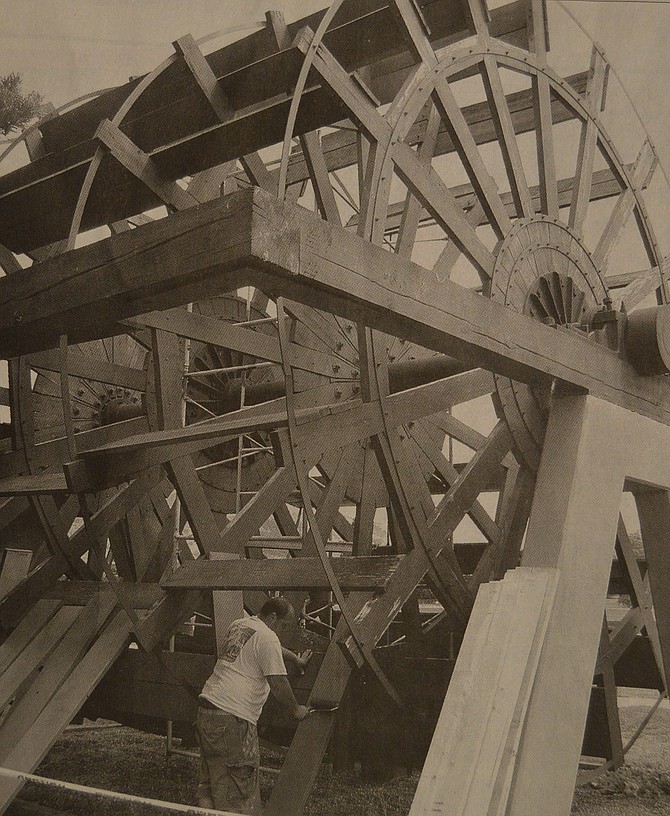 1916 — 100 years ago
Hood River's new traffic ordinances controlling the use of automobiles and other vehicles will become effective Friday, Sept. 22. The rules of the street have been made much stricter than heretofore and the city police have been ordered to enforce them. In the meantime, pocket-sized copies of the ordinance have been printed and are being distributed by City Recorder Howe and City Marshall Carson. "We expect every owner of an automobile or other vehicle to become familiar with this ordinance and comply with its provision," said Mr. Howe. "We do not wish to punish violations, but it must be done and we expect to see that the ordinance is enforced."
1926 — 90 years ago
At a special school meeting on Monday of this week, the Board of Directors of School District No. 3 opened bids on the general construction, heating and plumbing of the proposed new high school building. On the general construction, the bids ranged from around $132,000 to over $158,000. Most of the plumbing bids were somewhere between $6,000 and $7,000, and heating from $16,400 to $18,500. When the building is completed, Hood River will have a high school of which it may justify to be proud, both because of architectural beauty and practical usefulness.
1936 — 80 years ago
Parkdale, the Town Nearest the Mountain, will again present its bigger and better annual rodeo on Sunday and Monday, Sept. 6 and Labor Day, and, with the excellent program promised, will draw a big crowd for the two-day event. The rodeo starts each day at 2 p.m. and includes bronc riding, bull-dogging, wild cow race, wild cow milking, calf roping, chariot races and pony and horse racing. For the young folks, Cliff Walker will put on his famous clowning acts. A good campground is available for those who want to stay overnight.
1946 — 70 years ago
Tentative plans for a rural fire district, the first in Hood River County, were laid out at a meeting Friday evening in the Scout cabin at Odell. A committee composed of Lloyd Henry, chairman, Oscar Morgen and Harry Plog were elected by the 30-odd present to investigate the possibilities of a district, recommend boundaries and contract residents in and near Odell and gage their reaction to such a district. Chairman Henry reported Wednesday that his committee has found 100 percent approval of the plan.
1956 — 60 years ago
Cascade Locks residents vote Wednesday on a proposed new city charter which includes an amendment to the existing document providing for a $50,000 water bond issue. The election will be conducted in the council chamber of the municipal building from 8 a.m. to 8 p.m. The question of legality of the adoption proceedings under the 1954 charter is the reason cited by city officials for the proposed charter change. The amendment proposes that $50,000 in general obligation bonds be issued, which would be repaid from water department revenue, to enlarge the water gathering basin and to provide other improvements to the system.
VERBATIM: Horns Will Honk
Cars will gather at two spots Friday evening to form a car caravan to the Wy'east – The Dalles football game.
Fans near town will assemble their cars at the Safeway lot, Sixth and State streets, and other valley fans will drive to the Wy'east High lot.
Formation is between 6 and 6:30 p.m., then the Wy'east group will drive through Hood River to pick up the rest of the caravan about 6:45 p.m. Reserved parking and attendance "in mass" is part of the Lion-Wy'east Booster project.
— Hood River News, Sept. 8, 1966
1966 — 50 years ago
Building permits for 1966 in the City of Hood River shot past the $1.5 million mark during August, the highest total ever recorded here — with four months remaining in the year. Permits for August alone totaled $1,036,948. Most of the total involved the $997,186 permit for the Hood River Village complex. Add to that the other seven months' permits, and the total was $1,516,314. "We have four more months to build the record," said City Engineer Jerry Branton, "And it looks as if there's' going to be a lot more building."
1976 — 40 years ago
More than 160 persons — a record number — made the big splash in Hood River's annual Labor Day Cross-Channel swim across the Columbia River this week. "I think the figure was 164," summarized Walt Mellenthin, swim chair, after the last person came out of the water. They had come from Montana, Washington State, Oregon and even Connecticut. Tina O'Banion, manager of the sponsoring Hood River Chamber of Commerce, said there could have been more. They went over the tentative 150-swimmer limit as it was. "If we had let everyone swim who wanted to, there would have been more than 200," she said.
1986 — 30 years ago
The smoke has cleared — again — and the Port of Hood River has given top priority to getting Waucoma Center ready for United Telephone occupancy as planned. On Thursday, one week after a spectacular fire effectively removed a defective roof from the building, port representatives met with representatives of the insurance company general contractor and architect to determine how best to proceed. The primary object of all concerned is for speedy replacement of the roof and for removal of interior walls and the redwood-shavings insulation that has incubated several fires at Waucoma. (Firefighters were called to the facility once again on Saturday to extinguish a rekindle in insulation material.) The troublesome insulation had already been removed from fifth-floor walls by Tuesday, and work was proceeding on the fourth floor. It will be replaced throughout the building with more suitable insulation.
1996 — 20 years ago
Complaints from Hood River business owners about a slow summer tourist season prompted the Hood River County Chamber of Commerce and Visitor's Council to consider launching a summer promotion campaign next year, said Chamber Director Craig Schmidt. A summer marketing program would be a new step to bring tourists to the Hood River area. "We've never tried to market the summer season here in the past because it always seemed to take care of itself. People just showed up here," said Schmidt. "But because of the concerns voiced about this summer's stagnate tourist season, we're kicking the idea around."
2006 — 10 years ago
The pear harvest swung into full action this week as workers launched into picking the Anjou variety. "The fruit is looking good," said Chuck Thomsen. He had 75 workers plucking pears in his orchards along Eastside Road Thursday afternoon. Swirls of dust followed the tractors' paths as the drivers hauled bins to a loading area. Patricia Lachino went from bin to bin collecting harvest samples and placing bin card numbers in slots. A continuous flow of trucks bearing a Fruit placard in their windshield began the multiple week process of taking fruit to packing houses in the Hood River Valley.
— Compiled by Trisha Walker, news staff writer