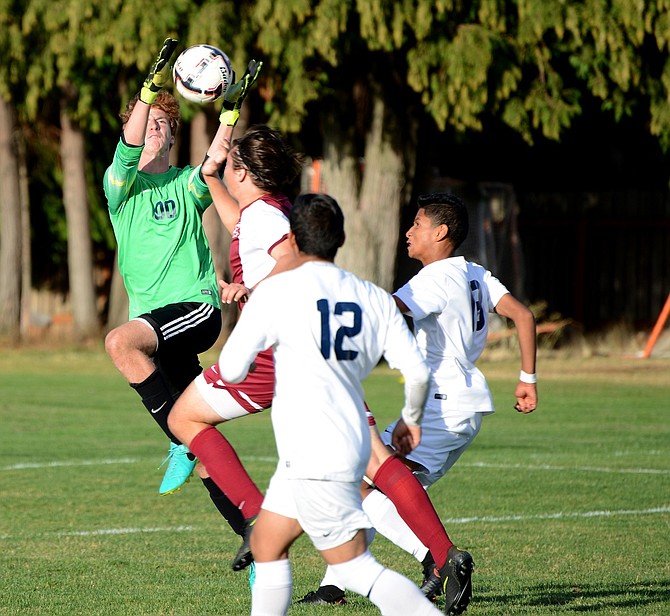 Last season, there weren't many schools that gave the HRV boys soccer team much trouble, except one.
That team was the Hillsboro Spartans, who not only handed HRV its first draw since 2013, but in a semifinal game in November, came close to giving the Eagles their first loss since that same season. HRV, facing a 2-0 second-half deficit, rallied thanks to four late goals from then-senior Andres Baeza. The Eagles won the game and then a few days later, the state title.
The game was present in the mind of Head Coach Jaime Rivera, and certainly some of the athletes who participated in the semifinal matchup last season, but wasn't a focal point heading into Tuesday's road contest with the Spartans. After all, that was 2015.
"We talked about it, but it's a new team and it applies to half the team, half the team feels a little connected to last year still, and the other half is like, 'This is all new,' and I think that balances it out," Rivera explained. "The way we approach things is a game at a time."
But Hillsboro graduated a number of students last year and the Spartan's 2016 varsity roster only has three seniors and in an unusual situation for a varsity program, also consists of six freshmen. That youthfulness did not work in Hillsboro's favor as it quickly became clear that the Spartans were outmatched. HRV cruised to a 3-0 advantage at the half and would go on to win 4-1.
The four HRV goals were bookended by efforts from Robby Running, who scored in the 10th minute to get HRV on the board, and then added another in the second half. Running, a sophomore striker who saw some time as a varsity starter in his freshman year, has had a great start to the season, putting up a total four goals in two games. Running played in game against Hillsboro last year and remembered it well, noting that going into Tuesday's game he "felt a lot of pressure… probably the most I've felt before a game in awhile."
Obviously the pressure did not get to him and Running is looking forward to being another contributor on a team already packed with them. He said he's grown four inches taller since the last time he played Hillsboro, is faster, and has had the benefit of more practice time at the varsity level. He added that he has "a lot of confidence" in what the Eagles can do this season and playing with his teammates — which include friends and family — has been fun this year.
"I've got my brother on the team (goalkeeper Travis Running, a junior who recorded five saves in Tuesday's contest), which is awesome," he said. "I'm just really looking forward to playing with my friends."
Running was aided in scoring by senior forward Noe Magaña, who had an assist on Running's fourth goal, while sophomore forward Erik Pitones assisted on the first strike. Magaña added a goal, scoring second for HRV off an assist from junior defender Erik Siekkenin. Senior forward Domingo Barragan, making his debut after a red card he received in last year's championship game kept out of HRV's season opener last week, rounded out the scoring for HRV with a goal before the end of the first half.
HRV put in subs in the second half after the team went up 4-0 and though they conceded a goal, Rivera said he was pleased with their efforts.
"We did really well. We conceded a goal, but those guys gave it everything they had. I can't ask for more," he said.
HRV 2, Franklin 0
The Eagles returned home two days later to host 6A Franklin High (2-1-1) at Westside Elementary. Franklin was able to put pressure on HRV more than any other team so far this season and had plenty of scoring opportunities, as evidenced by Travis Running's season-high seven saves he made Thursday night.
While Franklin did an admirable job of limiting HRV's attack, it wasn't enough, with senior midfielders Jorge Campos and Nathan Schmidili breaking through in the first half to score the game-winning and insurance goals, respectively. The Eagles won 2-0, and Running earned a well-deserved clean sheet for the first time this season.
The Eagles (3-0) have another big nonleague game coming up on Tuesday, where they will host 5A rival, Summit (4-0), at Henderson Community Stadium on Tuesday. On Thursday, HRV will have a big game once again, this time on the road against Wilsonville (3-0), in what will be a rematch of last season's 5A championship.