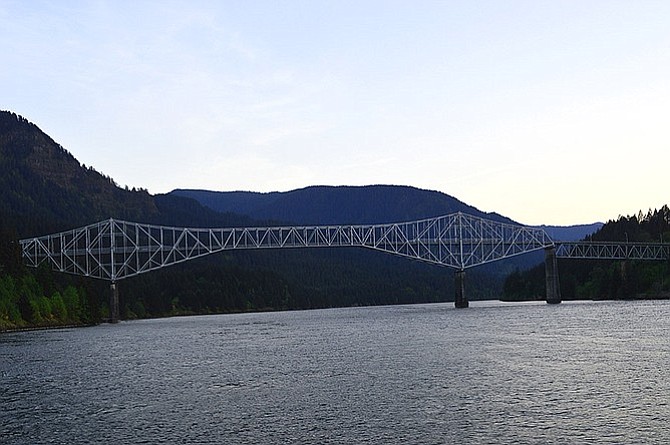 Traffic surged this year at Bridge of the Gods, prompting the Port of Cascade Locks to hone in its pursuit of an automated toll system.
The Port's engineer, HDR Inc., is looking into options for putting in new electric tolling technology at the bridge, cooperating with the Port of Hood River as they push their technology forward.
"The technology will move cars and trucks across the Bridge of the Gods more efficiently and with less traffic back up," Port General Manager Paul Koch said in an email. "In the meantime, bridge users can speed passage up by having the appropriate toll or coupon ready when they get to the toll booth and then moving on."
Koch termed the traffic flow of vehicles over the bridge this year at an "unusually high level."
HDR is working on a task order for the Cascade Locks Port dealing with applications for the project. The Port expects a review concept on the plan by December.
The Port of Hood River installed similar "Breezeby" technology on the Hood River Bridge in 2007, and has been upgrading that software over the summer.
The Port of Cascade Locks increased toll rates in July, creating a "local sticker" option for frequent crossers to get a discount.
Under the new system, local citizens and bridge users with two-axle vehicles (cars and pickup trucks) can cross the BOG for $1 by getting a local sticker or purchasing a coupon book. Bridge users who do not have the local sticker or a coupon book will have to pay $2 to cross.
Local stickers are available to residents of Skamania, Klickitat, Hood River and Wasco counties, plus the communities of Warrendale and Dodson. Local stickers are available at Port offices Monday through Friday, 8 a.m. to 5 pm. The stickers are free and valid for three years.
Coupon books are available in both $20 and $40 categories for anyone, regardless of place of residence. The coupon books will allow crossing the bridge for $1 each way. Books can be purchased at the toll booth or at port offices.
Bridge users do not need to have a sticker in order to purchase the coupon books. Both options are available to bridge users.
Trucks have a different toll rate based on the number of axles — trucks pay more per crossing than automobiles and pick-up trucks.
The system was designed to position the Port to afford to make $25 million in enhancements planned over the next 10 years in order to keep the bridge at its current 80,000-pound weight limitation, along with periodic maintenance to keep it functional, Koch explained.
The Port has a 10-year maintenance and preservation plan for the bridge. That plan will require port, state and federal assistance to carry it out.
For more information on the bridge and tolling rates, call the port offices at 541-374-2400 or 541-374-8619.