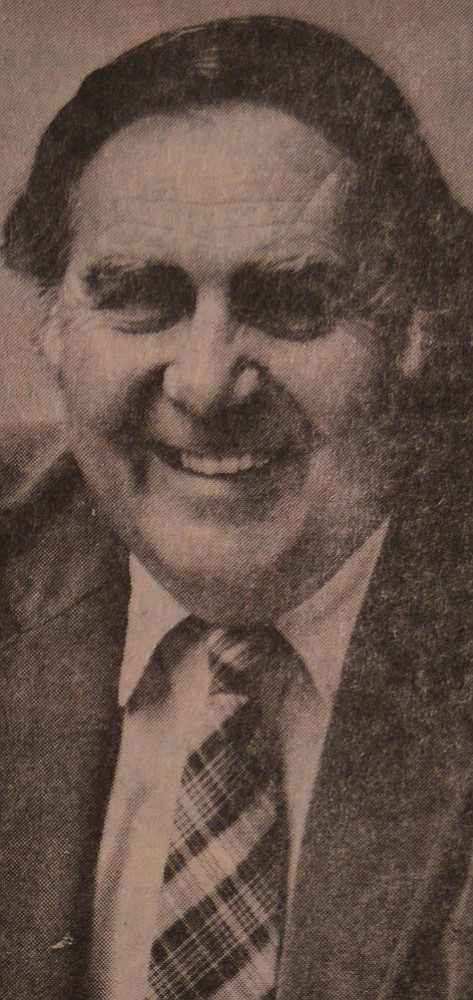 1916 — 100 years ago
The Anti-Saloon League of Hood River County wishes the cooperation of the school children in its fight against the brewers' amendment. To this end it offers a substantial cash prize ($25) to the boy or girl who writes the best article exposing the amendment or gives the 10 best reasons why the amendment should be voted down. Judges will award prizes to those whose productions seem most likely to win votes against the amendment. The contest is open to all Hood River County school children above the third grade and must be written with ink on letter size typewriter paper. All productions are limited to 300 words.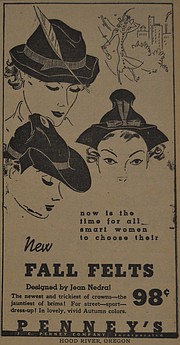 1926 — 90 years ago
The ravages of two winters almost without snow and two unusually hot and dry summers have left Elliott Glacier on Mount Hood but an icy shadow of its former magnificence. Today, this great glacier is torn and twisted, crevassed and cupped until it appears to have been through a violent earthquake. In former years it was customary for visitors to Elliott Glacier to walk to the base of Cooper's Spur and up on the great snowfields which then covered the broad expanse of ice. Today, when one reaches the northernmost point of the base of the Spur, one climbs down about 75 feet before reaching the debris-covered ice. Old-timers say that never before in their recollection have these cliff-like walls below the Spur been exposed.
1936 — 80 years ago
A maximum of sunshine and temperature during the day, reminiscent of summer, enabled many Hood River County folks to thoroughly enjoy the double vacation last Sunday and Labor Day. Not until Monday evening was there any degree of traffic on Oak Street, this city, except transient cars, going places or on their way home. While many local folks took in the excellent two day rodeo at Parkdale, others motored down to one of the Oregon beaches or visited well-known fishing spots, where many reported excellent and near-limit catches.
Verbatim: Cannery Needs More Women Workers
Big Bartlett Crop Is Being Processed
More women are urgently needed for the evening shift at the AGA cannery, where, at present, 450 are now employed on the two shifts to handle the bumper Bartlett pear crop, says Bob Ridgley, plant superintendent.
As might have been expected, in view of the heavy tonnage from orchards which have already been harvested, early estimates prove not to have been too optimistic, and it is now certain that canning operations at the cooperative plant will continue for a long period.
Most of the fruit is of excellent quality, although it is running to smaller sizes than last year, for reasons not yet clear.
Ridgley states that there are still a number of openings for women workers at the cannery on the evening shift to bring the plant to full canning capacity, and he asks all who wish to fill this openings to report as early as possible. The pay and working conditions are both excellent and there is every prospect of a long run of work.
J.E. Klahre, general manager of Apple Growers Association, reports the market for fresh packed Bartletts, which has been in the dumps for about two weeks, had, by Aug. 30, recovered some lost ground. Before the end of August, the AGA had sold about half its pack of fresh Bartletts, at prices which will return over $100 per ton to the cannery Bartlett pool.
Cannery Bartlett operations have gotten underway about a week earlier than last year. There is a full day crew and about 75 percent of the night crew. "If the supply of women workers for the cannery continues, we should complete our Bartlett canning operations as scheduled. Members who have not been into the cannery recently will be pleased with the improved appearance and utility of the new pear tables, which have been installed during the past year. Ceiling prices on cannery Bartletts have not yet been announced, but are likely to be higher than last year's prices," says Klahre.
— Hood River News, September 13, 1946
1946 — 70 years ago
A stage line, to operate between Hood River and Parkdale and offering services to residents of such intermediate points as Neal Creek, Odell, Dee and other points, will make its initial run Monday of next week, Sept. 16, reports Charles L. Tallman, of Gresham, owner of the stage line. This service will include carrying of passengers and express packages, and will be operated under a permit from the PUC. Stages will leave the Greyhound Bus Depot at Hood River, and valley depots will be located at Nelson's Grocery in Parkdale, Cozy Café at Odell and Neal Creek Café of Neal Creek.
1956 — 60 years ago
Tolls on the interstate bridge are strictly on a cash basis effective Saturday, local motorists are reminded. The port commission voted last month to eliminate the "charging of tolls" and placed them on a "pay in cash" basis on Sept. 15. Books of tickets may be purchased from the port-chamber office in advance.
1966 — 50 years ago
Hood River employees of the J.C. Penney store will mark the 91st birthday of one of this country's leading retailers Friday when they share a cake in honor of the 91-year-old James Cash Penney. Founder of the nationwide chain of department stores bearing his name, Mr. Penney used his birthday to urge young people to enter the retailing field. He feels there is more opportunity for the individual today than ever before … this from a man who began his career in 1895, was paid $2.27 a month as a junior clerk in a small dry goods store, and became founder of a nationwide chain of 1,700 department stores.
1976 — 40 years ago
Rain may have dampened the attendance figures at this year's Portage Days celebration in Cascade Locks, but it didn't dampen the spirits of the Portage Days committee as it begins making preparations for the coming year's celebration. "Each time we learn a little more," said Portage Day's Committee President Garry Gassidy. "Next year we'll provide even more covered areas in the event it rains again," he said, noting the scrambling for tarps and other weather protection as rains fell both Saturday and Sunday of the festival. Traffic counters at Cascade Locks Marine Park indicate some 6,500 people visited Portage Days this year in spite of the inclement weather.
1986 — 30 years ago
One of the longest continuous Hood River County service careers will come to an end with the close of 1986. County Administrator Ken Kirby told the Hood River County Board of Commissioners he will resign his job at the end of the calendar year. Formerly a county assessor and administrative assistant, Kirby's length of service is exceeded only by that of Virginia Routson, director of elections. Now, at age 65, he's decided it's time to look in other directions. "I've thought of this since the first of the year," he said. After his retirement, Kirby says, he plans to do some private appraising work. Beyond that, he doesn't have any specific retirement plans. Kirby was born in Odell, grew up there and attended Odell schools.
1996 — 20 years ago
When doors opened at Hood River County schools last week, fewer students showed up for class than anticipated. Enrollment figures tallied on Sept. 6 show 37 fewer students than the district expected for the first week of classes, said Superintendent Chuck Bugge. A total of 3,613 enrolled in the district's nine schools. That is nearly 20 students more than enrollment figures during the first week of school last year. Still, the district expected nearly 3,650 students this year, he said.
2006 — 10 years ago
Hood River paid tribute to the victims and heroes of Sept. 11 Monday evening, the fifth anniversary of that fateful day in 2001 when life changed for Americans. "It occurred to me that people all over the country are gathering today to do this same thing," Mayor Linda Streich said in her welcoming speech. "Some at this very moment." Following a procession of vehicles representing all emergency responders — firefighters, law enforcement officials and medics — from West Cascade to the Expo Center, nearly 400 community members filled the cavernous room to remember the tragic day. They also came to show appreciation to local emergency workers who devote their lives to serving others.
— Compiled by Trisha Walker, news staff writer