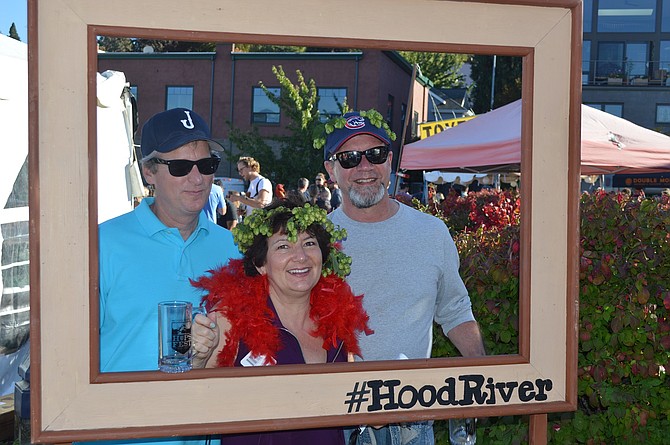 Downtown will be a beer drinker's paradise on Saturday, with two events open to families happening simultaneously a few blocks apart.
The first Oktoberfest at Hood River Elks Lodge, Third and Cascade, runs 4 to 9 p.m. Admission is free for all ages.
Meanwhile, Hood River Hops Fest runs noon to 8 p.m. at Fifth and Columbia, sponsored by Hood River Chamber of Commerce. (Ticket information and other details on page B1.)
Here are details about both events:
•
The Elks Oktoberfest is a fundraiser for its ongoing scholarships and other community service programs, with proceeds coming from beer and food sales, and sponsorships, according to organizer Roger Sherrell, an Elks member.
The event is open to the community to come and see the Elks Lodge, as well as to enjoy Oktoberfest music, join an Oktoberfest costume contest, a photo booth, and prize giveaways.
The Naughty Sweethearts will perform live music from 7 to 9 p.m.
Casual dress is fine, but men are encouraged to sport traditional German attire such as suspenders and leather trousers, aka Lederhosen, and women the traditional Bavarian dirndl, and join in the costume contest.
On tap will be Becks Oktoberfest, Spaten Optimator and Widmer Oktoberfest, Elysian, 10 Barrel and other Anheuser-Busch products too.
Bratwurst and sausages, best enjoyed with beer, will be for sale along with freshly-baked and doughy salt-strewn pretzels .
Children under 21 are not allowed in the areas where alcohol is being directly sold, but are allowed to participate in all the other activities including a pool table, darts, Xbox, Shuffle Board and Wi-Fi.
Elks plan to hold Oktoberfest each year, and organizers did not actively choose to time it with Hops Fest. The date worked well for the Elks schedule as well as keeping with Oktoberfest tradition, according to Sherrell.
"It will be busy," Sherrell said. "We expect people attending Hops Fest will want to come check it out. Our event is all lighter beer, different from the Hops Fest, and probably there will be enough people in town who want to try both."
Support for Elks Oktoberfest comes from Budweiser, Gorge Current, Ovino, Positive Negatives Photography, Infinite Graphix, Subway, Double Mountain, KIHR, Andrew's Pizza and Skylight Theater, Papa Murphy's, Subway, Logsdon Barrel House and Taproom and Solera Brewery.
•
One change in the 13th annual Hops Fest is that from noon to 5 p.m., there will be no beer garden as it has been known.
During those hours, children may accompany parents anywhere in the festival, including the beer service area. This will give parents the chance to fully enjoy the experience, according to Ashley Huckaby May, Chamber of Commerce events coordinator. She explained that OLCC states that only one mug may be carried per person. "This allows parents and children to enjoy the experience and not rely on someone to get one for them, only one mug in hand at one time," she said.
"This way, the beer garden might not be so inundated, and things can be more spread out," May said.
After 5 p.m., anyone under 21 is not allowed in the beer service area.
"Security is always really concentrated on the beer tent, and the monitoring will still be there, but it will make for a less intense experience," May said.
"It has always been very much a family festival," she said, "and the last two years have seen increases in families and we have had no pushback on it (the 5 p.m. restriction time). It's a good balance. We have chosen to maintain that 5 p.m. cutoff and allow it to continue."