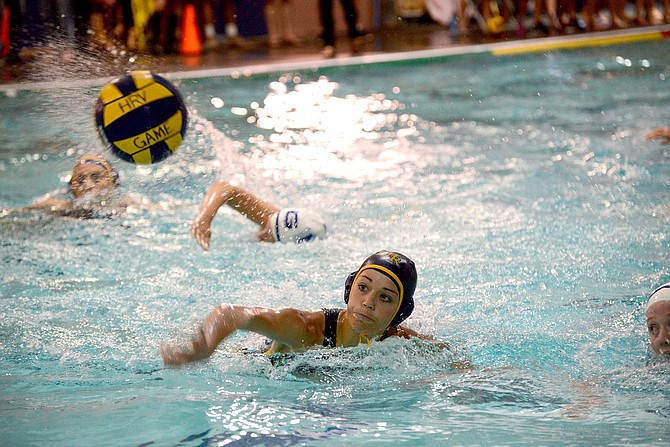 Tuesday's home debut for the HRV girls water polo team had the similar trappings to the other victories the young, talented Eagles squad have racked up so far this season:
Start the contest with devastating counterattacks? Check.
Make sure the score gets out of hand early? Check.
Pop in the junior varsity players and let them finish the game? Check.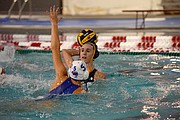 HRV's opponent, Grant (1-4), never stood a chance at the Hood River Aquatic Center, as the Eagles used their superior speed, physicality, and shot accuracy to shell the Generals in the first quarter, scoring seven goals in the first seven minutes. The Eagles cruised to their fourth win in as many games, defeating Grant 13-3. They had a similar outcome on the road Thursday against Gresham (1-4), going up 7-0 in the first quarter en route to a 14-3 win.
It's only been five games, but with some big wins over some big 6A schools, the undefeated HRV girls are looking more and more like the team to beat in the Mt. Hood Conference this season. But HRV Head Coach Kellie Dunn isn't taking anything for granted, even with a load of lopsided wins.
"While we've had a really strong start to the season, I'm still a little suspicious of every team we play. Any team can beat any other team on any given day and that's something you see all the time in sports," she noted. "I've been teaching the girls that every game is a battle and that they need to play all-out until I tell them otherwise. We can't afford to take teams for granted, because everyone is hungry for those wins."
Complacency won't do HRV any favors, particularly if the team does advance to the state tournament again this season and faces a team like Summit, who prevented the Eagles from advancing to the title game last year. Dunn has tried to use the blowouts as a way to strengthen other aspects of HRV's game, such as new plays and defensive strategies, as well as putting in bench players — all of whom saw playing time Tuesday night.
"It can be hard to play games where we don't get the tough competition. I really want our girls to be challenged and learn to get goals in tough situations where they have to make opportunities themselves rather than get reliant on their quick counterattack, but that doesn't always happen for us even in a mixed 5A/6A league," she explained.
Jamie Robinson dominated the stat sheet for HRV on Tuesday, tallying a team-high six goals, two assists, and 11 steals. Rose Finstad and Faith Ocheskey had two goals and assists each, while Finstad also added four steals. Rounding out the scoring were Amber Kennedy with two goals and Allie Burke with one. Courtney Castaneda led for HRV with a hat trick on Thursday, while Ocheskey, Robinson, Finstad, and Reegan Tweeten were right behind her with two. Kennedy, Sarah Hall, and Ella Mudry each scored once. Kat McElderry started the night with four saves in net and a steal, then handed over the duties to Anna Galbraith, who recorded one save.
Girls host Parkrose Tuesday and then hit the road Thursday for a game at Centennial.