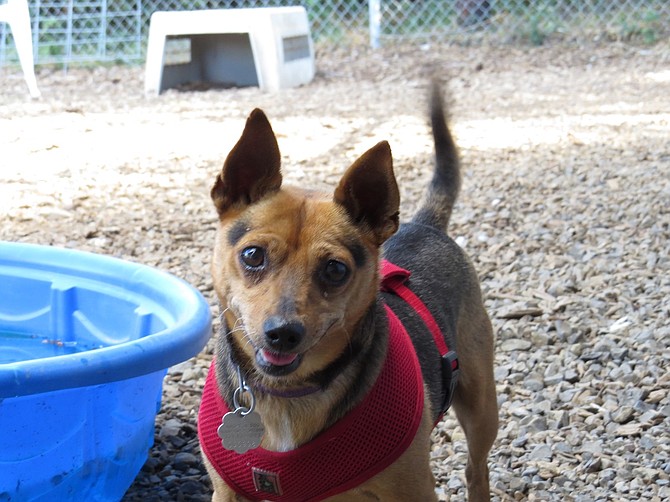 Calvin has been selected by volunteers as Adopt A Dog's adoptable pet of the week. He's 4 years old, 13 pounds, and a Terrier mix. You'd never know just a few weeks ago he was scared and running around loose in a campground, and wouldn't let anyone approach him. But people were determined to save this little fella, and that they did! We got Calvin straight into a foster home and now he's pleased as punch to be safe and snuggled.
Calvin loves leashed walks, loves other dogs and is super playful with them — big or small — and he has easily learned how to pounce up into someone's lap and make himself perfectly comfy! Calvin is adorable and just wants to be part of the gang. He has definitely found his sparkle and shine!
Calvin is an awesome, playful, happy dog! He still sometimes needs a slow introduction to strangers and doesn't like a lot of running around, so we're not recommending a home with small kids. But otherwise, he's no problem at all ... sleeps all night, is house trained and plain ol' happy, happy guy!

Calvin is current on shots, microchipped and neutered. The adoption fee for Calvin is $205. The fee to adopt is charged to recoup standard veterinary expenses. Since many of our dogs are in foster, please call ahead to meet Calvin in Odell at the Hukari Animal Shelter, 3910 Heron Drive, or call for more information at 541-354-1083. Adoption hours are Wednesday, 5-7 p.m. and Saturday, 9-11 a.m. You can fill out an application online at our website, hoodriveradoptadog.org, or download and scan and email to us at adoptadog@gorge.net, or fax it in to 1-877-833-7166. We offer 24PetWatch microchips, which include free registration into the 24PetWatch pet recovery service.
For more information visit www.24petwatch.com or call 1-866-597-2424.