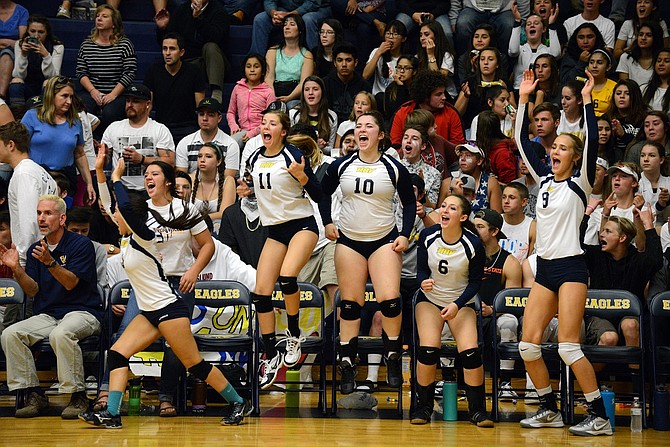 After escaping with a win against Pendleton and then recording its first loss of the season in a tournament with Liberty last Saturday, the HRV girls volleyball team apparently decided to take any lingering frustrations out on Hermiston Tuesday night, walloping the Bulldogs in three lopsided sets.
They did the same Thursday evening in Hood River, defeating last year's league team to beat, The Dalles Riverhawks (2-6, 1-2 Columbia River Conference), in three decisive sets that were won in front of a large and loud crowd at Vannet Court. The Eagles went 25-17, 25-10, and 25-17 to sweep the first of three rounds of league games.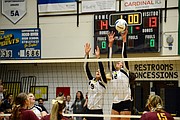 The Eagles (13-1, 3-0 CRC) had some third-set struggles last season, but those haven't been as evident this year, particularly in the league win at Hermiston (5-6, 2-1). HRV improved in every set, taking the first one 25-16, the second 25-14, and the final set 25-9.
HRV Head Coach Scott Walker said he was "so pleased" with his team's three-set sweep of Hermiston.
"Our defense and transition offense was sharp and everyone who got into the match kept pushing and contributing," he remarked. "A really great team effort."
Walker said the team had a better passing game, noting there were only three shanked passes Tuesday evening, and "killed it" when it came to serving. Outside hitter Shae Duffy made things exceedingly difficult on the Bulldogs both at the net and the service line, pummeling Hermiston with 10 of the team's 19 total aces (with just one error) and a team-high seven kills on 14 attempts. She added seven digs and an HRV-high three blocks.
Emily Curtis, a setter who has been an assist monster for the Eagles this season, continued to be a lynchpin in HRV's offense and defense, tallying a team-high 12 assists and nine digs. The Kennedys — that is, Katie Kennedy and Kennedy James — chipped in with six kills each, and Rebecca Johnston served up five aces for the Eagles.
Duffy had another big night on Thursday with a team-high 13 digs and Curtis was tops with 22 assists. Kennedy had the most kills, with a baker's dozen, and Johnston have five aces with two errors.
The Eagles head to another Saturday tournament, this time at Parkrose, before resuming league competition with home games against Pendleton (1-6, 0-3) Tuesday at 6:30 p.m. and Hermiston Thursday at the same time.