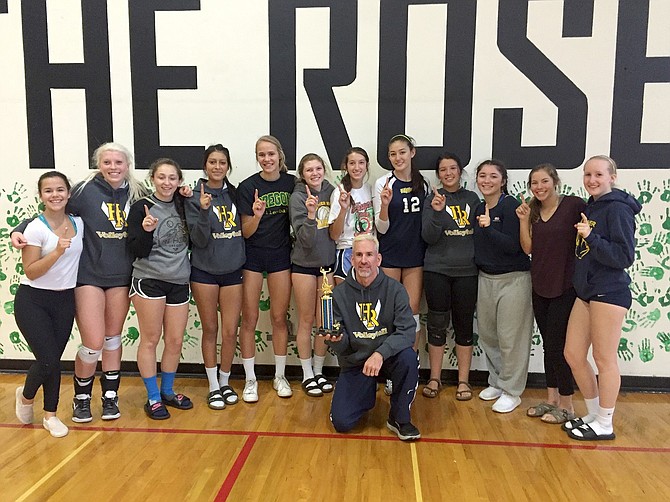 It was another weekend of wins for the surging HRV volleyball team, who swept the competition at Parkrose High on Saturday to claim its third tournament victory of the season.
The Eagles (16-1, 3-0 Columbia River Conference) shut out 6A North Salem, then Woodburn, and finally, host Parkrose in the best of two sets tournament. Not only that, but none of the sets were close. HRV beat North Salem 25-15, 25-13; Woodburn 25-17, 25-11; and Parkrose 25-17, 25-16.
It was another great performance put on by the duo of Katie Kennedy and Shae Duffy, whom Scott Walker said "hit extremely well," with the two combining for 39 kills in the tournament and Kennedy racking up a team-high six blocks. He added that Emily Curtis and Rebecca Johnston both "served lights out" at Parkrose, combining for 20 aces. Curtis also had a team-high 20 assists and Johnston grabbed 18 digs.
Though they may not carry quite the weight of league competitions, the tournaments have served as "good practice for what we need to work on," Walker noted. And because HRV has played in so many tournaments, and has done so well, moving onto the later rounds, the Eagles have played more games than any of the other 32 teams in the 5A classification. Despite all those games, as of press time, the Eagles have lost just the third fewest sets (eight) in 5A, tied with La Salle and Sandy. Only Lebanon (seven) and Marist Catholic (four) have lost fewer sets, but those teams have only played 10 games to HRV's 17.
With those statistics, one would think that the Eagles were the top team in the state and for a short time, they were ranked as such by the OSAA. However, the Eagles fell in the rankings over the weekend to No. 5 due to some of the opponents HRV has played having a low win percentage.
"So, we got five wins on the books last week and dropped four spots in the rankings. We didn't lose one set all week," Walker noted.
Though the Eagles have been making short work of their opponents this season, and though they steamrolled the competition at Parkrose, Walker still sees room for improvement as he eyes a deeper playoff run for his team this season.
"We have to pass better and make less service errors. Against really good teams, a service error isn't always a missed serve. A service error could be an easy serve to a good passer that lets the opponent run their offense," he explained. "If we serve tough and pass well, we can compete at the net offensively and defensively with anyone in the state. That first ball is crucial for us to rise to our potential, so we have to continue improving our serve/serve receive."
HRV returns home and returns to league competition with a game on Tuesday (results not available at press time) against Pendleton (3-7, 0-3) and another on Thursday at 6:30 p.m. versus Hermiston (5-6, 2-1).
•
In other HRV volleyball news, Duffy was recently highlighted on The Oregonian/OregonLive website as one of the top Oregon high school volleyball players to watch in 2016. She was highlighted for her 130 kills and .357 hitting percentage this season.