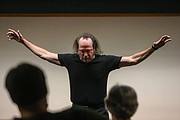 Christopher Leebrick will present a performance of Edgar Allan Poe's "The Tell-Tale Heart" on Oct. 5 at 7 p.m. at the Hood River Library. The show will also feature other spooky tales from around the globe and a discussion following the performance.
A national award-winning storyteller, Leebrickhas enthralled audiences with his storytelling since the age of 13. Since 1975, he has performed from coast to coast at festivals, theaters, concert halls, schools, libraries, and campfires. All three of his CDs, "Good Stories from All Over," "Critters, Kids, and Cowboys," and "Spooky!" have won national Storytelling World awards.
For more information, visit Leebrick's website at www.allgoodstories.com.
This program is free and open to the public and suitable for adults and teens (ages 12 and up). For more information, contact the Hood River County Library District at 541-386-2535, info@ hoodriverlibrary.org, or visit their website at hoodriverlibrary.org.