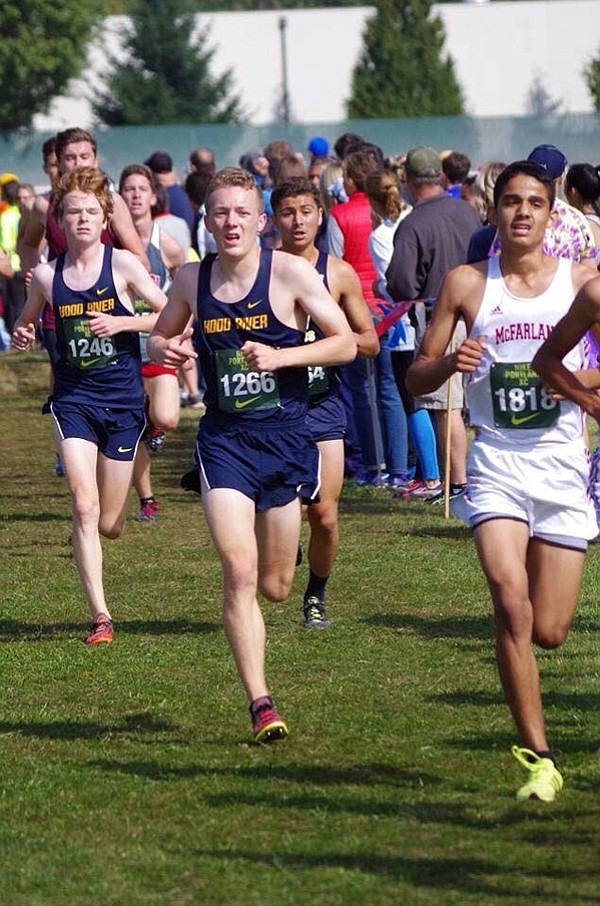 Saturday's Nike Portland XC meet provided the first major test for the HRV cross country team and Head Coach Brandon Bertram liked what he saw, with only a few reservations.
"They ran well," he said. "I think there are a few things we need to fix and a few things we need to celebrate."
Both the boys and the girls entered the hyper-competitive Division I race at the massive invitational running against some of the best teams in the Pacific Northwest. The boys placed fifth out of 22 teams and the girls placed 11th out of 27 teams. Hypothetically, Bertram said those efforts would put HRV as one of the top five teams in 5A. On top of that, almost every athlete on the team set a personal record at the meet.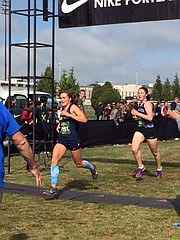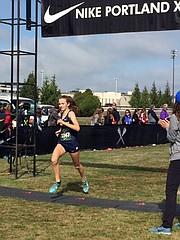 "The pace just carries," Bertram explained of the fast times. "You just kind of get with a group of fast people and if you have a goal in mind, you can just cruise."
The boys team was anchored by seniors Jesse Wiley and Jacob Bromham, who had "huge PRs" for HRV and placed third and 11th overall respectively. He also touted the performance of freshman Omar Quintana who "came out on a big stage and set a big PR" in the race.
But the debut of Connor Truax was one of the biggest causes to celebrate. The junior has been rehabbing a lower-leg injury throughout the summer and Bertram said his appearance at Nike Portland XC was "worth the wait." Truax didn't PR, but still went sub-17 and placed 39th out of 151 runners.
"He's only been running on the ground for a week and he jumps in and runs faster than he did last year… you could tell he wanted this," Bertram said, adding that Truax "gives us the extra boost to put us as a top contender in the state."
As for the girls, it was the pair of frosh Lottie Bromham and senior Daisy Dolan who led the team, finishing in 12th and 20th places, respectively. It was the fastest race of the season for both.
"Daisy and Lottie went out pretty hard… so they had to grind out that last mile, but they threw down a great race," Bertram noted.
Celia Acosta also had a performance of note, said Bertram, with the freshman placing 58th and less than 25 seconds away from hitting a sub-20 milestone. He mentioned the JV girls team also had some fast times in Saturday's race — so much so that some may be entered in future varsity races.
There's always room for improvement though, and Bertram said he thought both teams looked more tired than they should have in the latter half of the race. However, with these athletes, Bertram said they are often already aware of what needs to be worked on, and that was no different following Saturday's race.
"Every kid was able to identify what they did well in the race and what they need to do to improve next week," he said. "They're a very intelligent group."
The team next heads to Newberg for the Champoeg Invitational on Saturday.
Boys results:
Jesse Wiley (3rd, 16:08.61, PR), Jacob Bromham (11th, 16:23.52, PR), Connor Truax (39th, 16:57.51), Elkin Parker (65th, 17:20.01, PR), Omar Quintana (102nd, 17:47.71), Caleb Trumbull (139th, 18:42.37)
Girls results:
Lottie Bromham (12th, 19:31.50, PR), Daisy Dolan (20th, 19:41.67), Celia Acosta (58th, 20:24.90, PR), Reed Bauer (101st, 21:10.32, PR), Josie Petersen (132nd, 21:40.93), Katie Koenig (152nd, 22:19.32, PR), Chloe Clark (158th, 22:36.88, PR)