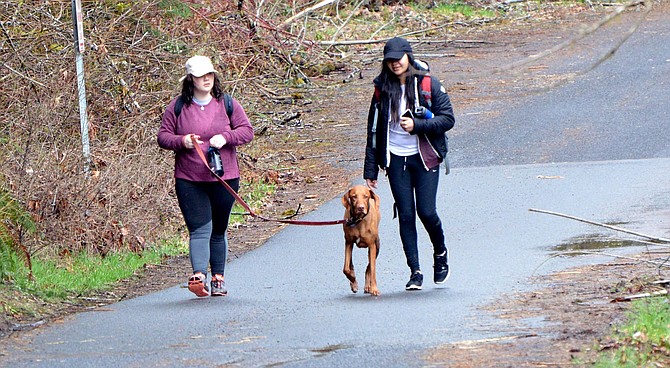 Out of a long, harsh winter comes milder weather and a corresponding influx of recreationalists enjoying the Columbia River Gorge.
However, the buzz of activity on Mount Hood and in the Gorge has posed a steep cost in recent years for emergency officials who respond to aid lost and injured recreationalists — and this spring break is no exception.
Matt English, Hood River County Sheriff, said almost all the agency's search and rescues activity is attributed to visitors. The last incident involving a local resident was in January 2016, he said.
"Nothing has changed," English said. "Recreational response remains one of the chief concerns. Revenue sources have still not materialized."
Safety tips 'Prepare for unexpected'
Bracing for a busy spring break, the state office of emergency management sent out a news release warning Oregonians to stay safe while taking part in popular spring break activities liking hiking remote Gorge trails.
Scott Lucas, Search and Rescue coordinator, said plenty of accidents can be avoided by being prepared and knowing where you're going, the weather conditions, what you need, and packing extra supplies like water and snacks.
"If you are going out, away from the city, you should plan accordingly. Plan for safety and the unexpected," Lucas said. "When you go hiking, dress accordingly. Bring food, a cell phone and other supplies you may need."
The state program supports a broad spectrum of search and rescue operations in Oregon, coordinating with state and federal agencies, liaising with the Oregon State Sheriffs Association and other organizations, and providing on scene crews when requested.
"Search and rescue is a needed asset, especially in Oregon. We live in a large state with so many recreation opportunities," Lucas added. "No one goes out with the intent to get lost or injured, so preparing in advance can keep you safe."
For wilderness safety tips from the National Parks Service, visit www.nps.gov/isro/...
To learn more about the Oregon Office of Emergency Management Search and Rescue Program, go to www.oregon.gov/oe...
Various funding options aren't making their way to the SAR program. English said the county doesn't receive transient room tax revenue (TRT) from the City of Hood River, the U.S. Forest Service hasn't increased funding, and Title III dollars devoted to public agencies continue to decline.
The county's off-road vehicle program also took a hit — a roughly 41 percent proposed cut from the Oregon Parks and Recreation Department on the sheriff's office's recent budget ask. Both the state and county are facing budget challenges this biennium.
HRCSO tried to "get some movement" through the Legislature on TRT revenue via a couple bills introduced by a group in Central Oregon, English said, but those opportunities appear slim.
"It's a non-starter, so at this point we're stuck and our local taxpayers will continue to foot some of the bill for recreation response, despite not accessing most of the services," English said.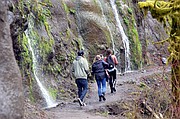 Rescues on the Columbia River and other waterways, however, will get consistent funding over the next two years through Oregon Marine Board. That aspect has helped the department, English said.
The sheriff's office partners with an array of emergency medical service and rescue groups, such as Cascade Locks Fire and EMS, Mountain Wave Rescue, and the Hood River Crag Rats.
The most recent exhaustive effort by those crews was the mid-March search for a skier who was found dead after being missing for eight days.
The week of the search, Chris Van Tilburg, MD, with the Crag Rats, explained that the group had concerns coming into the spring season, following heavy snow fall and a potential increase of recreationalists in the Gorge.
"We are worried we may run into a very busy (rescue) season. We've already been on three rescues," Van Tilburg said.
The Crag Rats has a core group of about 40-50 volunteers, along with ancillary agencies. "We definitely get stretched (thin)," Van Tilburg said of Gorge emergency response teams.