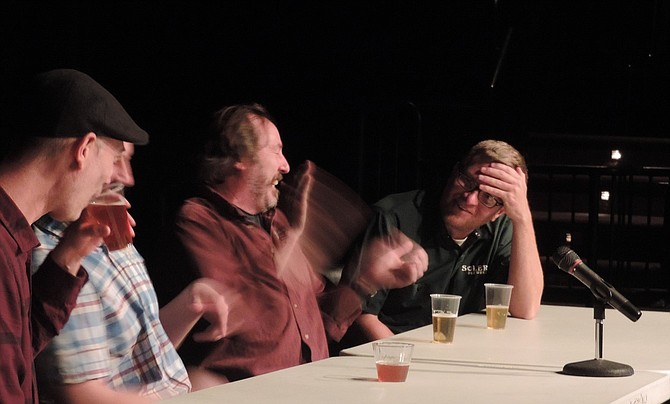 Three local brewmasters sat in an unusual place — under the spotlight — for a recent conversation at Columbia Center for the Arts with renowned beer writer Jeff Alworth of Portland (author of 2015's "The Beer Bible").
The book event, sponsored by the center and Waucoma Bookstore, featured a beer tasting in the lobby from three of the Gorge's finest breweries, followed by an accessible and often funny "insider" discussion.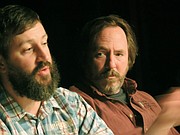 Alworth talked a little about his newest book, "The Secrets of Master Brewers," then moved to a detailed Q-and-A with brewers Jason Kahler of Solera Brewery in Parkdale, Josh Pfriem of pFriem Family Brewing, and Matt Swihart of Double Mountain.
"You have a really special place," Alwood said. "The brewers here are really special."
Pfriem said of the Gorge brewing community, "We all know each other and love beer and have been inspired by each other."
Alworth noted that of his 26 chapters, three are about the Hood River brewers: Swihart for fresh-hopped ales, Pfriem for Flanders red ales, and Kahler for spontaneous ales. Two Portland breweries are also profiled: Breakside for hoppy ales and Upright in Portland for Old Ales. (Styles featured also include Gose, Berlinerweiss, cask ales, brewing with corn, Irish stout, and rustic French ales.)
Jeff Alworth's book is ubtitled "Techniques, Traditions, and Homebrew Recipes for 26 of the World's Classic Beer Styles" (Storey, $24.96, 292 pp.). "I traveled all over Europe visiting brewers and when I got back to the United States I realized that in different countries people think about beer differently," he said on March 25. For example, the Britons have a malt-based cask ale tradition where most product is consumed fresh (and 50 percent of it in pubs, compared to 10 percent in the U.S.) and the Belgians produce longer-aged, higher-alcohol ales brewed with complex yeasts, and the bulk of their output is bottled. He writes in the book, "To really understand the beers brewed in other countries, you have to put yourself in the mind of the brewers, to see how they came to their basic assumptions and how they shape the beer. "If we need a new homebrew book ... it's because these methods and approaches haven't been transmitted to American homebrewers," said Alworth, who writes a beer blog, Beervana.
"I looked at a lot of styles, decided which ones are the most important, and got to know these guys," Alworth said.
After letting Pfriem introduce Swihart, Swihart introduce Kahler, and Kahler introduced Pfriem, Alworth spoke of the perspective-opening mission of his new book, aimed at introducing home brewers to the great styles of the world (see sidebar).
He put it as "The context of beer," as in the myriad national styles and how Americans might learn from American brewers who have mastered those styles and developed them into their own.
Alworth writes, "There are recipes in each chapter of the book, but more important is the discussion of the invisible hand that guides each style's creation. The chapters were designed not to teach you how to clone a particular famous beer, but to understand the entire approach to brewing in that beer's tradition. I've had the chance to have dozens of incredible brewers give me the secrets to the beers they brew, and I didn't want to keep it all to myself."
•
The main event March 25 was a four-way conversation between Alworth and the brewers (comments interspersed here with short sections from the book).
Pfriem said of Swihart that Double Mountain — 10 years old as of March — came along "at a time when Oregonians were ready for the change, with big flavor profiles. It's been fun and exciting to see what Matt produces."
Swihart was the first to joke that the fresh hopped-style can result in the unwanted vegetal "compost beer." Alworth said Double Mountain's "Killer Green" is a destination beer, and in his book writes, "Ten years ago, brewers didn't fully understand how to use fresh hops, but they have learned a lot in a decade. It is one of those styles most available the homebrewer — or at least the homebrewer with a backyard trellis — and can become a joyful event on the annual brewing calendar."
Swihart noted that "what's cool is that a lot of us worked at Full Sail;" he and Pfriem overlapped there, and Kahler came later.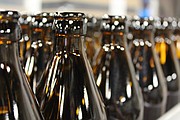 "I'm kind of pissed off about that — I wish I'd spent time with you at Full Sail," Kahler said to Pfriem. "I'm proud to be part of the community you're in."
He has the distinction of working for four Gorge breweries: Walking Man in Stevenson, Full Sail, Big Horse, and Solera, which he started five years ago with John Hitt.
Swihart said of Kahler, "He doesn't make a lot of beer, but he makes the most interesting beer in the valley."
Swihart said of Kahler that "everywhere he has been, the beer is exciting and has gotten better and better," and that other brewers watch with interest the labor-intensive, reiterative "solera" process from which the brewery takes its name: starting with one wild ale and blending in one third new each six months. Solera is an arching process that sustains the yeast ecosystem while embellishing each successive batch of wild-fermented ale.
Alworth writes that Kahler's Lambic process is beyond the ability of most homebrewers, but "the basic process of fermenting wild is tailor-made to small-scale brewing and is one of the few approaches where homebrewers can meet or exceed the quality of the pros."
Wild yeast brewing is "like inviting microbes into your house; you want to feed them. You keep the colony alive, and healthy," Kahler said
Pfriem said the daunting aspect of brewing beer is that "what you're drinking tonight is the result of decisions made two years ago, and that's really hard, and really cool."
Allworth said Pfriem surpassed expectations, given its five-fold growth in four years of existence, and "is regularly knocking it out of the park," especially given the brewery's combination of output including an extensive sour and barrel-aged program.
He writes in his book, "pFriem Flanders Red is one of the most accomplished examples of this type of beer made outside of Belgium."
About Pfriem, Kahler said, "Josh has encompassed everything I wish I had the focus to do." He said he routinely refers Solera customers to other local pubs, and "at the end of a day I often find myself at pFriem. pFriem pilsner is my number one beer."