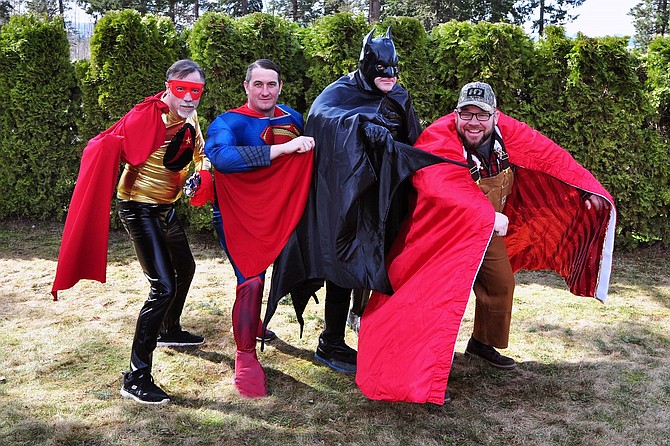 It's the year of the Superhero show, starting with the Mid-Columbia Lions Follies. The 2017 show will be "Kid Awesome and the Disco Girls." It is an original script with story by Terri Tyler and Bev Bridgewater, written by Tyler.

According to Bridgewater, the production folks had this show in mind quite a few years ago, thinking it would have good appeal after the Superman vs. Batman movie was released. They had no idea that the Superhero phenomenon would rise up, not only in the movies, but on the small screen as well.
The show takes place in Supertown, which has ordinary citizens, and Super Hero High, where the up and coming superheros are trained. Kid Awesome, played by Onar Smith, is the lead character. He and his superhero teens are learning to fight crime. The teenage superheroes are Miss Scarlett (Megan Ball), Terra Firma (Courtney Castaneda), Flame (Emily Curtis), Donkey Boy (Kelsey Stewart), Flush (Brandon Moore), Mezmarana (Maggie Ishizaka), Barb Wire (Savannah Demchuk), Procastinator (Arayah Nelson), Napoleon (Colton Nussbaum) and Lego Boy (Mateo Garcia).
Kid's father, Captain Awesome (Wayne Tengwall), is now the coach at Super Hero High. He and his cohorts, Superman (Jeremy Belcher) and Batman (Wade Hogg), defeated the evil Queen Bea (Andrea Fox) and her Disco Girls (Sarah Fox, Rachel Weatherly, and Emily Hogg) 20 years ago. Now, through a series of events, Queen Bea is brought back to her evil ways, united with her Disco Girls, and brings in a new group — the Glitter Girls (Natasha Muenzer, Sofiya Cron, Grace Bigelow) to help take over Supertown.

Will she be defeated? Who will save the day? Can Kid Awesome and his superheroes rise to the occasion? And what about Dave Tallman, I mean Archie Bolt? How will he fit into all this?
All these questions and more will be answered. At the same time, audiences will enjoy disco, 1980s music and current pop songs. It's a high energy, super charged type of show that will please all ages.

The Follies is a fundraiser for Oregon Lions Sight and Hearing Foundation. Last year's show raised $14,000 with total donations over the last 40 years quickly approaching $400,000.
Show dates are April 21, 22, 27, 28, 29 at 7:30 p.m. The Sunday matinee is April 23 at 2 p.m. Attendees are encouraged to show up in costume for the matinee.
Tickets are available from Lions members and various outlets around town. For more information, call Lion Trudy Tallman at 541-386-2763.