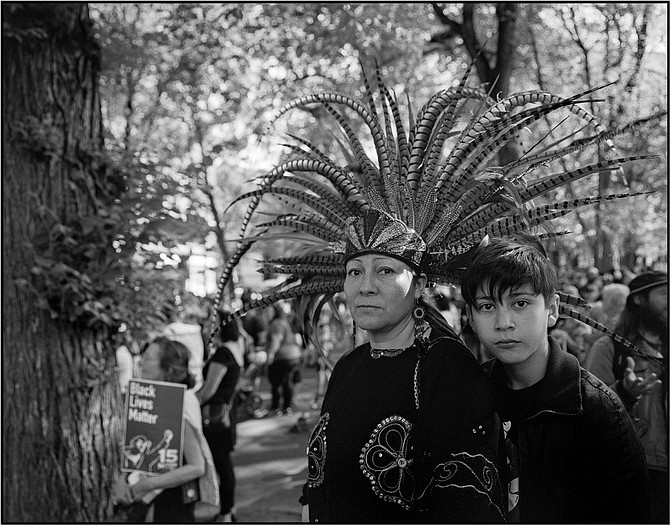 Leading to its strength in vintage photography, The History Museum of Hood River County showcases "Inhabited/Uninhab-ited/Inhabitants," an exhibition of recent photographs by Hood River artist Danny McCarty. The public is invited to an opening reception on Friday, April 7 to meet the artist. Doors open at 6:30 p.m., with artist's remarks at 8 p.m. The show runs from April 8 through May 31.
The technology of photography translates a visual experience into a durable image. This seems straightforward enough: an objective technology captures a factual record of whatever the camera is aimed at — landscape, object, or person. However, a photograph can be more than simply the record of what the camera "sees" — photography can also be high art, the product of aesthetic, as well as technical choices. Manipulating elements such as composition, focus, and tonal value from light to dark, the photographer can choreograph what he sees.
The exhibition of McCarty's photographs brings a contemporary voice to the museum and underscores its engagement with the photography medium. In a range of subject matter, McCarty uncovers the elemental structure of familiar places and situations. Spare geometries and novel visual relationships imposed on ordinary forms make the commonplace fresh and satisfying. Using a variety of vintage and more modern cameras, as well as new digital equipment, McCarty explores the technical possibilities of equipment, film, and photographic processes.
•
For years, The History Museum has taken pride in its collection of approximately 20,000 vintage photographs. Recording the people and places of Hood River Valley, these artifacts capture the imagination and heighten the understanding of the past. This cache of material has been the focus of extensive attention in recent years to insure the safe archival storage and preservation of the photographs. Effort has also been invested in investigating the subject matter — the what, where, who, when — of the images themselves. Known to historians and researchers, the museum's holdings may be less known to local inhabitants because the originals are rarely exhibited due to their fragile nature. Photos from the museum are posted daily to Historic Hood River, a photo blog curated by Arthur Babitz, museum photo archivist.