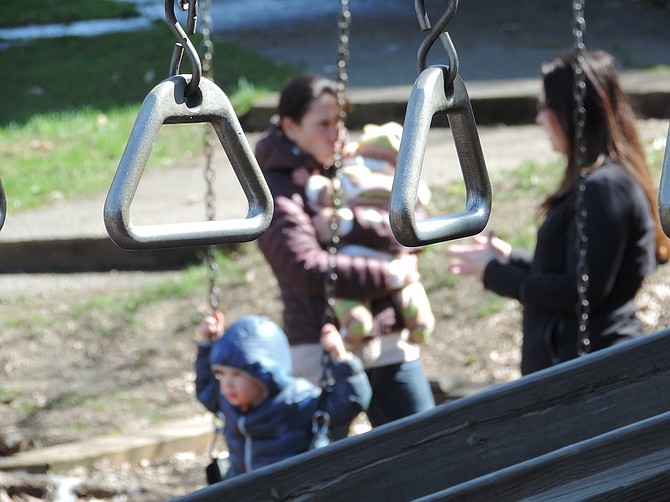 Children's Park laborers from 1993 and active users of 2017 pressed for answers Monday in a community meeting convened by officials of the City of Hood River, which owns and operates the park.
The park playground was closed for safety reasons Friday, following an engineering study that found 31 separate safety concerns (see the city website, www.ci.hood-river.or.us for the report.)
Mayor Paul Blackburn called the meeting at Hood River fire hall to inform citizens about the city's process for replacing the playground structure, and to answer concerns. Citizens told city officials that the four days' closure notice was far too abrupt.
"The biggest issue was that the communication rollout was really tough," Kaitlyn Abbott told city officials during Monday's Q-and A.
"I want to apologize for that happening," Blackburn said. "I don't blame any one person, and I'm partly responsible, but we want you to know it will be re-opened and maybe within a few weeks."
City officials said updates would be posted at the website listed above.
City manager Steve Wheeler, who was present Monday, informed City Council of the closure on March 27; it was reported in the Hood River News on March 29, and the structure was closed March 30, citing "major problems" that came to light when staff inspected it and the engineering study revealed safety problems.
The playground is surrounded by chain-link and "Keep Out" signs, but Mark Lago, public works director, said Monday that roughly half the playground features can be repaired for use this summer, and the city is targeting Memorial Day to re-open portions of the structure, which citizens raised funds for and helped build.
"We've got to close it," Blackburn said. "If a kid gets hurt after we were informed (of problems) we would be liable.
"The safety report is dead serious," he said. Wheeler cited the end of "recreational immunity" — the user being accountable for the risk — as protection for the city ; he said the Legislature is looking at revisions to the law, but as it stands now the city, or anyone it allows to do work on the park, can be held liable.
"Right now we are not protected," Wheeler said.
Wheeler and Blackburn said there have been no reports of injuries at the park.
Rebuilding the structure will cost $250,000 to $300,000, according to Lago and Blackburn, based on preliminary inquiries.
The remainder of Children's Park remains open, and the city is pointing users to the Waterfront Park, Wilson Park and other facilities with playgrounds.
"There are lots of other parks where you can meet nice people," Blackburn said.
"We got 24 years out of wooden structure that was only supposed to last 20," Blackburn said. Wheeler said the city plans to include playground money in the 2017-18 budget, now in development.
Monday's community meeting turned into part reunion, with 1993 organizers Dan Boyden and Kym Zanmiller speaking, and part rally, as attendees decried the closure and vowed a renewal of the community effort that built the park 24 years ago.
"We'd love to have citizen involvement in this," Blackburn said, adding that the city plans to approach the Hood River Valley Parks and Recreation District about some type of partnership. Also attending were council members Mark Zanmiller and Megan Saunders.
About 100 people attended Monday and the city got an earful.
"Why can't we just replace some things rather than starting from scratch?" asked Dixie Kelly.
"What we have is not just a park but a monument," said Dan Boyden, who helped organize the 1993 project. "This is an opportunity to restore the park and maybe rekindle the spirit of this."
"I appreciate what the community did, but maybe if you made the monument out of something more durable we wouldn't be talking about this," Blackburn responded.
Melody Shellman noted that much of the park is not ADA compliant, however.
Clara Cook noted that "a ton of regulations that have changed in the last 5 to 15 years, but as much as I don't want to see the park removed, if there are things that are going to make it safer for everyone's kid, maybe this is a good thing."
Mark Hickok, executive director of the Parks and Recreation District, attended the meeting. The parks board has not discussed the matter but plans to do so.
"We consider the city a great partner and we'd like support it in any way we can, whether it's helping with either working with the community to select or come up with a solution, or in monetary ways," Hickok said Tuesday. The Parks and Recreation board next meets on April 19 at 6 p.m. at the Aquatic Center, and the topic might be on the agenda, according to Hickok. "It's a beautiful park, a gem of the community and we would love to see what the city comes up with for the new play equipment and are able to help in any way," he said.
Helping was the heart of most public comment Monday.
Citizens including Brian Carlstrom, who helped in the 1993 project, expressed doubt about the safety concerns and urged the city to hasten repairs so that people can use the park again.
"This is more about liability than safety," Carlstrom said, saying, "Most of these (safety) items can be handled in a work party. How about Saturday?"
At the end of the meeting, Carlstrom asked Blackburn, Wheeler and Lago, "Will you give us permission to do this right now?"
"No, not right now," Blackburn said.
"When?" Carlstrom asked
"We ask you to be patient," Lago said.
Wheeler announced that a $1,441 donation has already been made to the city.
The donation is from Lynn Lewis and her children, Maggie and Graham, now in their early 20s, who 10 years ago raised funds to pay for shading features at the park; the money was never spent but the family kept the fund and last week turned it over to the city. Lynn Lewis said she hopes that some redesign of the park will include shade devices.
Blackburn said no city staffer has been assigned as project manager, and that the city would entertain a community group taking on planning and fundraising roles, including creating a 501.C3 account.
Steve Tessmer of Hood River Rotary said the group was prepared to host such an account as it has done for past parks projects including Skatepark.
Blackburn, who has worked as a professional fundraiser, noted that "Finding the sweet spot between engaging peoples' energy and peoples' energy enduring is a lot of work."