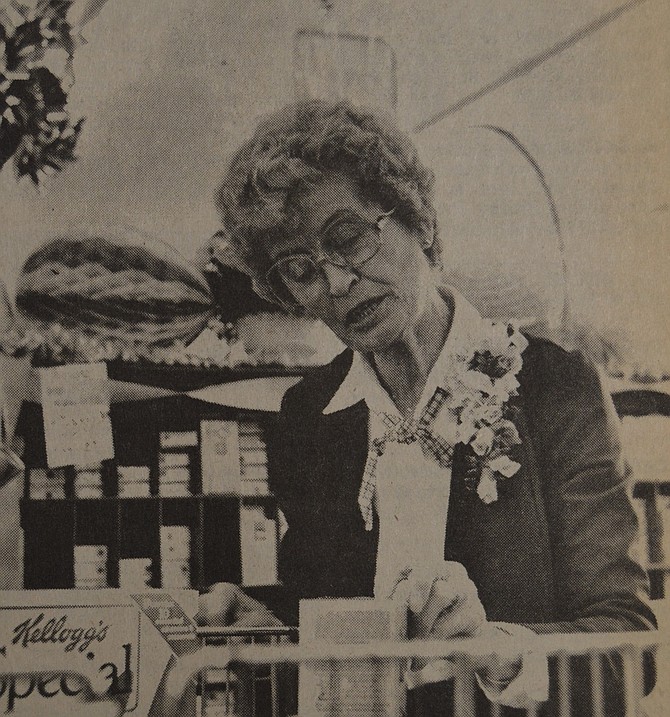 1917 — 100 years ago
Today marks the opening of the local branch store of J.C. Penney, Inc., located in the store formerly occupied by the furniture department of the W.M. Stewart Company. E. B. Michael is the local manager and has been here for several weeks remodeling the store and arranging the stock. Arrival of some of the stock has been delayed by the car shortage, but it's expected that the line of goods will shortly be complete.
1927 — 90 years ago
"The Hilltop," a painting by P.L. Manser of Hood River, was selected by the committee of the 12th annual Expedition of Northwest Artists at Seattle, as worthy of being exhibited in company with a number of paintings by artists who have attained national reputations. The painting will be remembered by a number of residents, for it was exhibited a short time ago in the First National Bank of Hood River. The picture is mainly a skyscape, representing a midsummer view from a hilltop. The painting hangs with examples of the brushwork of Eustace P. Ziegler, Paul Morgan Gustin, Edgar Forkner and other equally famous artists, and Mr. Manser is naturally proud of the honor which has been accorded to his picture.
1937 — 80 years ago
"Business as usual during remodeling" is the slogan now ruling at the First National Bank, where a crew is working day and night and through this coming Sunday to remodel the entire interior of the bank, with the goal of completion by Monday morning. The entire interior of the ground floor will be changed, so as to provide for more efficient and rapid service for clients, and the old directors' room and adjoining offices are to be eliminated. So when you enter the bank next week and want to catch the eye of its manager, E.O. Blanchar, look to the right, instead of to the left, as you have done for so many years.
VERBATIM: Interviews Start for Jobs at HR Village
A landmark day in the new Hood River Village program arrives today when operators of the motel-restaurant complex start interviews for employment.
Eddie Mays, operator of the motel-restaurant, made arrangements to interview applicants today (Thursday) from 10 a.m. to 5 p.m. and from 10-12 Friday to fill some 80 openings for employment. Interviews will be at the local employment office on Oak Street.
"We want to hire at least 90 percent of our personnel locally, if we can," said Mays. He plans to take the restaurant employees to Portland for at least three days of on-the-job training at any one of several operations Mays runs in Portland.
In addition, he plans at least five to seven days of intensive on-the-job classroom training. "We'll probably bring 10 to 12 of our best employees from Portland operations up here to be sort of supervisors to help these people get a start," Mays said.
Manger of the restaurant will be Mark Mays, 24, son of the Village operator, who has been general manager of May's restaurant in Yakima, Wash. "He's worked in just about all our operations — he managed one of them at the Seattle World's Fair."
Also moving in to help with the restaurant management, Mays said, is another son, Bruce Mays, 21. He's been working at Davy's Locker in Portland. Both of the younger members of the Mays family are single, and plan to move here soon to set up operation.
Actually, they've already been spending a lot of time here watching the progress of the building. They had seen by last weekend that it was time to start arranging for the interviews.
They'll be looking for 10 cooking personnel or so, six to eight dish machine operators, six to eight bus boys, two engineers, four cashiers, 25 waitresses, five or six desk clerks, six to eight maids, and five or six bartenders, to name a few of the positions they'll be filling.
They have been working toward an April 23 grand opening, but Mays admitted they might not quite make that date. "It might be a few days late," he said, "possibly the 30th." Delays in some of the technical progress at the massive construction project have set the calendar back somewhat, Mays said.
In any case, they'll sure they have to be ready before May 1. "We have three banquets billed on May 3," he said. "We're better than 50 percent booked through May, June and July on banquet facilities, and we have quite a few motel reservations in that time," Mays claimed.
Operation plans call for maintaining the coffee shop on a 24-hour basis. Mays plans to be spending about a month or so in Hood River, getting this and other parts of the operation set up.
While he was getting ready for interviews, Diamond Fruit was also working out details for its operation at the Village site, the "Fruit Tree." A committee of the Hood River Art Club, headed by Aatto Annala, is planning to set up a permanent exhibit of local art. Planned on a rotating basis, some 30 pieces will be hung on walls at the pavilion. Elwood Samuel, Glen McConn and Rich Steeves are members of the art committee. Diamond Fruit plans to time its opening with the other parts of the operation, according to DFG officials.
— Hood River News, April 6, 1967
1947 — 70 years ago
The 30th anniversary of the Odell High School alumni was celebrated last Saturday evening, when some 130 members and husbands or better halves, as the case may be, attended the annual banquet which was served by the Ladies Aid under the chairmanship of Mrs. Roxy Martz, in the grange hall. The 1947 senior class members were also present. Later in the evening a dance was held in the high school gymnasium. The class of 1917, with six gradates, was represented by one member, Erwin F. Bowerman. The 1918 class had the Hagen sisters, Nellie and Esther, while 1919 members present were Margaret Heft Davis and Harry J. Plogg.
1957 — 60 years ago
The Mosier-The Dalles secondary highway will be closed at 6 a.m. today (Thursday) and will remain closed until April 18 at 8 a.m. due to construction on the new highway, reports the highway department.
There is no intention of closing the Jaymar Lumber Mill operations in Hood River, but negotiations are in progress to lease the mill, reports John Crawford, vice president of the corporation of Portland. The mill employs 30 men. Reports that the mill may have to suspend operations were received by the News early this week. Crawford answered this report by saying there is a good possibility the mill may not close if a lease is found before the company's log inventory is closed out.
1967 — 50 years ago
At midnight Friday, a major change took place in the electrical distribution system of the Hood River Valley without so much as a flicker of a light bulb. That was the time when the Hood River Electrical Co-operative and Pacific Power and Light Co. put their new agreement into effect for a new alignment of service areas for the two utilities. Bonneville took over the PP&L substation, and thereafter all kilowatt hours going through the substation are to the Co-operative account. Meanwhile, Co-op lines on the north and east of the Hood River were delivering power for Pacific Power and Light. Each customer involved in the changeover will receive one more bill from his old utility, according to Willard Johnson, Co-operative manager.
1977 — 40 years ago
First earth was turned at Hood River Valley High School Monday for a new little theater building. C.E. Klock & Son was setting up equipment when representatives of the district dug sod from the area that will soon be covered by the building. The large structure will rise east of the present music building at the high school, and it will fill much of the lawn area between the music building and the cafeteria. Representatives were Lynda Slusher, drama instructor, School Board Chairman Fred Duckwall, Drama Department Booster Helen Hukari, Assistant Superintendent Jack Jensen, Superintendent Frank Lariza, Elementary Supervisor Jim Carnes, High School Principal Charles Bowe and District Business Manager Norman Hand. The building is scheduled for completion about November this year.
1987 — 30 years ago
Names of 15 applicants for one position on the Columbia River Gorge Commission went to the Hood River County Board of Commissioners Monday, but they'll do some screening before singling out one member.
The Gorge provided her good winds, (generally) fair skies, and a throng of celebrants to welcome her to her new home. The tall ship Sarah completed her voyage from Newport, Ore., to Hood River Saturday — a voyage which actually began more than six months ago with efforts of the Hood River Tall Ship Committee to bring her to the Mid-Columbia. The Sara arrived to find a greeting celebration in progress at the Hood River Marina. Work is now beginning to obtain funds to refit and operate her as a tourist attraction and sail training vessel.
1997 — 20 years ago
Members of the sister city delegation from Tsuruta, Japan, got a firsthand look at American schools this week during their visit to Hood River. Several students and a teacher visited Hood River Middle School on Monday and Tuesday, sitting in a variety of classes and seeing how their U.S. counterparts learned reading, writing and arithmetic.
It's too early to predict how this fall's Hood River Valley pear harvest will turn out, but most growers are confident it will be better than last year's crop. This past winter was quite mild, especially when compared to 1996, when freezing temperatures in January and early February led to what is being called the worst Bartlett crop on record in the upper valley.
2007 — 10 years ago
Hood River County officials have learned that enough wind blows over Middle Mountain to generate electricity. But government leaders don't yet know if setting up wind turbines on county land in that location would be profitable. Dave Meriwether, county administrator, is seeking grant funding to answer that question. He said wind generation of electricity appears, at this time, to be the best option for breaking into the "green" power business.
Hood River resident Terry Brandt has made his dream come true to share his passion for antique aircraft and automobiles with the public by building a 50,000 square-foot museum. Construction crews were in full swing working last week on the Western Antique Aeroplane and Automobile Museum. The facility is located on Brant's property to the north of the Ken Jernstedt Hood River Airfield.
— Compiled by Trisha Walker, News staff writer