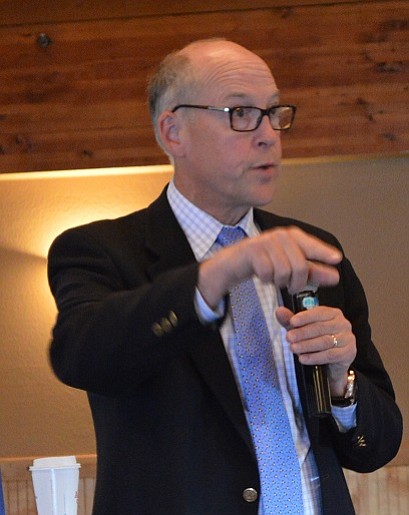 Rep. Greg Walden (R-Hood River) will hold town hall meetings Wednesday in his hometowns, Hood River and The Dalles.
First: an event at Fort Dalles Readiness Center, 402 E. Scenic Drive in The Dalles, from 11 a.m. to noon.
Next, the Hood River meeting runs from 3-4 p.m. April 12 at Hood River Middle School, 1602 May St.
The Gorge public sessions launch Walden's town hall sweep through Oregon's Second District during the congressional spring break.
In advance, Walden acknowledged high levels of input from his constituents, some of it heated.
APRIL 8 EVENT
Advocacy have groups scheduled a separate citizens' town hall from 4:30-6 p.m. Saturday, April 8, at Hood River Middle School.
"They've made it clear they have concerns," Walden said during a phone interview Wednesday.
Walden, who resides in Hood River, has fielded questions and comments not just at the office, but in daily life — on his lawn while doing yard work or at the grocery aisle in Rosauers, he pointed to as examples.
Some controversial topics like health care and immigration have risen to the foreground.
Congressional Republicans aim to repeal and replace the Affordable Care Act. But in March, House Speaker Paul Ryan withdrew the GOP bill due to disagreements amid Republican factions over key provisions. Despite "tension" amid the ranks, Walden indicated, endeavors continue.
Walden said the new plan seeks to provide "relief" for people paying high premiums, among other fixes. "We're trying to get to a place where states have more (flexibility). We're not there," Walden said.
He supports certain rules that dawned in the ACA, such as patients staying on their parents' insurance until the age of 26, and protections regarding pre-existing conditions.
Walden chairs the powerful House Energy and Commerce Committee, which oversees health care and environmental policy, a position he took following decisive GOP wins in the November election.
Immigration was another issue Walden heard from Gorge residents and beyond. Valley agriculture leaders have aired concerns about their need for immigrants in the workforce, Walden said.
President Donald Trump has proposed bans on immigration from certain countries and called for stricter security measures, such as a border wall — policies that didn't sit well with some valley residents. A pro-immigration march in Hood River drew about 240 people in February.
But Walden said he supports legal paths for people entering the country. He has spoken directly with Trump on the topic, Walden said.
"We've always had a vibrant immigrant population. We need to respect that we're a country of immigrants," Walden said, while also stressing a need for border security. "A country that doesn't have control of its borders doesn't have control of its security."
Other top priorities on Walden's radar, according to a news release: "Growing jobs in Oregon, finding common-sense health care solutions, better managing our public lands, and taking care of our veterans."
Walden, the only Republican in Oregon's congressional delegation, hosts at least one town hall meeting in all 20 counties of his district, which spans southern, central, and eastern Oregon.
He has recently met scrutiny over public engagement, and what critics say amounts to a lack of response to their complaints and inquiries.
Numerous letters to the editor in the Hood River News and The Dalles Chronicle challenged Walden, either on his level of responsiveness or his stance on particular issues.
The April 8 citizen town hall was scheduled prior to Walden deciding on his April 12 meeting. A spokesman with Walden's office confirmed he would not attend, but organizer Bonnie New said Friday the event is still a go.
Walden acknowledged the "frustration" constituents have expressed over his office's replies, but commended his staff's work given the volume of comments.
"(With a) total of 70,000 incoming messages this year, it's a lot for me and a really small staff. We log in everything that we can. I get daily reports, I see these things," Walden said.
Walden said his team has received about 1,968 messages this year from constituents in the Hood River area, and responded to most of them.
People who cannot attend Walden's town hall meetings but would still like to ask questions or give input are encouraged to visit his website at www.walden.house.gov.
Asked about his expectations for the Hood River town hall, Walden said, "Mostly I think people want an opportunity to express themselves … so I'm there to listen."