WELL SAID: "I tend to live in the past because most of my life is there." — Herb Caen
OBJECTS IN the mirror are hoppier than they appear: seen walking downtown, a man with large concave traffic mirror under one arm and a growler in his other hand.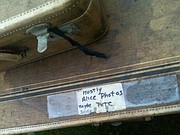 DO IT ALL DAD: On the Heights, a man pushes a child in a stroller while walking a dog with and carrying a broom, all the while batting a large plastic ball down the street.
EASTER TIDINGS: Full Sail's April 13 Brewmaster Dinner was billed as "The Last Supper," just in time for Easter. Not THE last supper, but the final one of the season for the brewery. (And the table would hold more than 13.)
SIGN OF the times: piles of phone books discarded in Post Office lobby. (We still use them here at our office.)
FREE stuff is back: wicker baskets, a nightstand, a mattress, office chair, and hand-labeled suitcases (see photo).
— Kirby Neumann-Rea