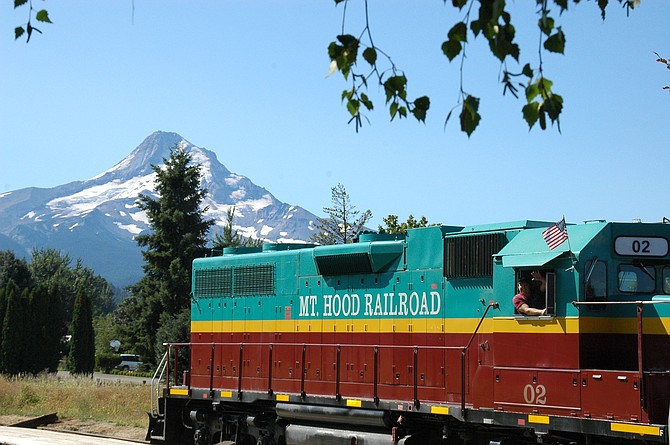 Mount Hood Railroad's scenic excursion trips are returning to the upper Hood River Valley.
Trains will take passengers on a four-hour journey through shady woods and colorful fruit orchards, capping the experience with picturesque mountain views in downtown Parkdale. Last year, the trip stopped short in Odell — but now the full loop's back in action.
"I'm just excited (that we're) going back to Parkdale," said Ron Kaufman, Mount Hood Railroad general manager.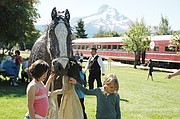 Kaufman, who has been with the railroad for 30 years, opened the Dee and Parkdale leg of the trip in 1988, at the inception of its tourist route. Since then, the railroad has continually operated the valley excursions, except for in 2016.
The company was eager to return to Parkdale, Kaufman explained, because the upper valley offers plenty of sights and experiences, from forests along the winding Hood River to vineyards and orchards. Pears and apples grow in abundance, lining rolling hills.
The train ride goes high enough that "you feel like you're at the base" of Mount Hood, Kaufman said. Mount Hood, Oregon's tallest peak, looms high above Parkdale with a summit at roughly 11,250 feet elevation.
With a four-hour tour, passengers can make of a day of it. Kaufman noted that families traveling from as far as Eugene to ride the Mt. Hood Railroad get a more satisfying trip that way, compared to the shorter route to Odell, which was about an hour long.
Boarding happens at Mt. Hood Railroad's station in downtown Hood River, at 110 Mt. Hood Railroad Ave. off Second Street.
The end of the line is Clear Creek Station, at the intersection of Baseline Drive and Clear Creek Road in Parkdale. The park setting includes a large grassy area, picnic tables, a small amphitheater and historic exhibits. Nearby are the Hutson Museum, the Parkdale Grange, Apple Valley Barbecue, Solera Brewery, and Alabama Jim's Long Shot Restaurant.
The Mt. Hood Railroad, a 22-mile route, was originally built in 1906 by David Eccles, who was drawn to the valley by the large timber stands and the already burgeoning fruit industry. The train transported freight for Oregon Lumber Company.
The state's prime lumber days are gone, but Mt. Hood Railroad still operates as a heritage and short line freight road.
The company first came to Parkdale in 1910 to bring lumber used to construct the original McIsaac's Store. The old store is gone, but its replacement lies close to the tracks and offers an old-time general store feel.
Safety Tips
Kaufman gives the following safety guidelines regarding the train tracks: "If you or somebody you know crosses the tracks, whether hiker, biker, sightseers and more — be aware and keep an eye out for the Mt. Hood Railroad. Listen for the train whistle, slow down, and be prepared to stop at the crossings."
Museum Fundraiser Day
On April 22, kickoff day for this year's upper valley trips, all proceeds will go to Hutson Museum in Parkdale.
Passengers will take in the Gorge's remarkable spring vistas. And if weather cooperates, Kaufman said, they will witness blossom weekend in full swing.
The train boards at 10:30 a.m., departs Hood River at 11 a.m., and returns at 3 p.m. Fare starts at $40 for a first-class children's ticket. Onboard entertainment comes with a western flair as guests enjoy views on the ride.
The fundraising event will partner with other businesses, including McIsaacs' and Apple Valley Barbecue. During an hour layover in Parkdale, visitors can enjoy a picnic lunch and explore the Huston Museum — admission will be free.
The barn-red Huston Museum displays a mix of rocks and minerals, Native American artifacts, military items from World War I and II, and local memorabilia. "In all the world," says its brochure, "you won't find another museum like this one."
The museum is staffed by volunteers and attracts visitors and field trips from April to October.
HUTSON OPEN HOUSE APRIL 21
Hutson Museum in Parkdale holds an open house on April 21 from 5:30-7:30 p.m. Stroll through a locally-operated museum filled with local history, native American artifacts, geological specimens, World War II memorabilia and more. Get a sneak peek at local art and crafted goods in the newly-curated Museum Shop. Meet the artists and the Hutson Museum volunteers.