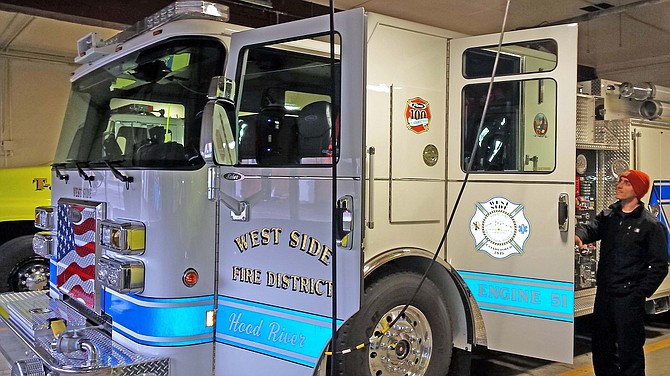 Coming back to Hood River is a hands-on safety fair and Cascadia Subduction earthquake presentation — "The Big One 2.0" — from 5-8 p.m. on April 20. It was standing room only last year, so this year, a new location with more room for activities was located at the Rockford Grange and West Side Fire station, 4250 Barrett Drive, Hood River.
Go hands-on with fire extinguishers, Go-Kits and mobile response vehicles, and tour West Side Fire station and talk to the folks who staffed the EOC (Emergency Operations Center) for the winter storm.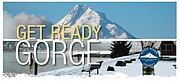 Additionally, learn how to safely purify and store water, preserve food, and learn about generators, how to safely shut off utilities, and get ready for recreation season and emergencies at the same time.
Hood River County Sheriff's Office will be on hand to talk about public safety, water sports safety, and search and rescue, and the Hood River County Health Department will have an information station concerning vaccines and other topics.
Enjoy West Side Fire and Hood River Fire's free barbecue and Fresh Start hors d' oeuvres. Hang out with Sparky the Fire Dog and Smokey Bear. It's everything you need to know — all the local public safety experts in one place — with hands-on practice for Cascadia earthquakes and other emergencies.

After Hood River's intense winter that became a county and state declared snow/ice storm emergency, the June Cascadia Rising statewide drills and the summer Mosier train derailment, emergency preparedness is more relevant than ever, states a press release.
At 6 p.m., back with the latest Cascadia Subduction earthquake information, will be geologic speaker Dr. Althea Rizzo from Oregon Office of Emergency Management. Barb Ayers, Hood River County emergency manager and Sheriff Matt English will discuss what was learned from the winter snow and ice storm, and the first County EOC (Emergency Operations Center) activation in 20 years. Learn how the county helps local agencies and businesses recover via state and federal programs, what was learned from statewide Cascadia Rising earthquake drills June 2016, and what was learned from the December 2016 four-day grant-funded Integrated Emergency Management Community Course attended by 96 local leaders.
Additional topics include:
• Is your home or business quake-ready? Check out the FEMA building retrofit guide. Historic brick buildings and those built before earthquake codes are a concern.
• Find out about Neighborhood Mapping and how to build neighbor-to-neighbor readiness.
• OSU extension — with Lauren Kramer, assistant professor.
• Preparedness, food safety — What to do if your freezer or fridge stops working. Storing food for safety and quality; water storage for emergencies.
• 2nd Wind Sports — with Pepi and Erica Girard.
• Hiking, watersports, camping, disasters: Here in the Gorge, we're recreation-ready and ready for emergencies — same kit, same preparedness thinking. How do you quickly/easily purify water if it's contaminated, or you are unsure?
Westside Fire and Hood River Fire Department present:
• Ready, Set, Go — how to prepare for evacuations.
• Defensible Space — prevent wildfires from damaging your home.
• Hands-only CPR practice with Hood River Fire Department.
• Hands-only CPR skill station — practice on mannequins with Kip Miller and Fire/EMS team.
• The Amazing Ellen Dittebrandt (AED) program

• HazMat and how to shelter in place with Oregon Fire Marshall's Office — Michael Heffner.
• Interactive shelter-in-place activity and learn what HazMat placards mean.
• What to do when is the power is out. How do you shut off utilities? How to switch safely from electric to generator power?
• Learn to safely shut off your natural gas with Northwest Natural —Tonya Brumley.
• Hood River County Public Works — solar power generator, alternative power displays.
• Pacific Power's Hazard Hamlet — the ever-popular five-foot long interactive mini-city activity.
• Crag Rats — Bill Pattison and team.
• Check out the backcountry emergency response rigs; learn about backcountry rescues and emergency field communications from the historic Crag Rats .
• When to call 911: Sign up for Citizen Alerts with 911 Commander Erica Stolhand.
• Sign up in person for the countywide Citizen Alert System (used for evacuations and emergency notices.) All local safety agencies use this phone/email system to reach you with important information. We can't reach you on your cell or email if you don't opt in.