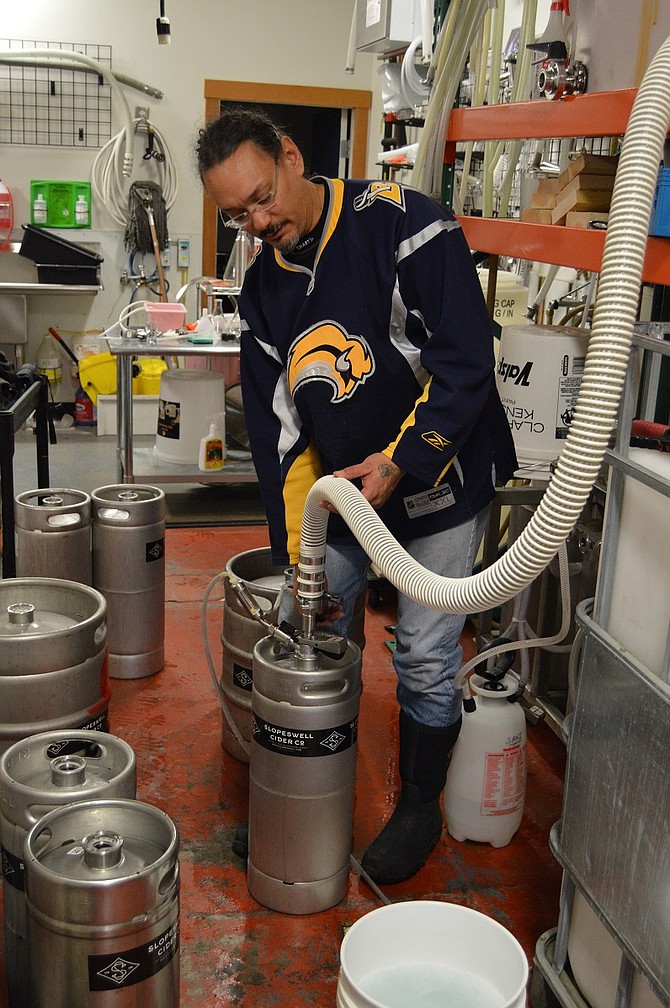 Now in its fourth year, the Hood River Hard-Pressed Cider Fest on April 22 gives seasoned and novice cider drinkers alike the chance to sample cider from Hood River County's very own cider makers, as well as a variety of additional Northwest cideries.
Twenty-five cideries will be participating, with more than 50 ciders on tap. Look for new offerings from cideries at the festival for the first time, including Runcible Cider of Mosier, Legend of The Dalles, Tumalo of Bend, and Double Mountain of Hood River (see accompanying feature). Local cideries include Draper Girls of Mt. Hood, Fox-Tail Cider of Odell, and Jester & Judge of Stevenson. Cideries from Bend, Wenatchee, Portland, Salem, Corvallis, and Seattle will also be on hand.
"What's great about that event is that what's happening in Hood River is exciting," said Matt Swihart of Double Mountain, who pours his own cider for the first time at Cider Fest.
"There were one, then two (cideries) and now eight that are coming into the valley and it's a showcase for the fruit that's grown here, and everyone has their own bent as to how they approach it and they're all very different."
The daylong event also features a lineup of local music, and a kids' area, complete with a bouncy house — guaranteeing a great time for the whole family. Spring showers aren't a problem, as the tasting area takes place in a covered hall. And, just a friendly reminder, pets are not allowed at the event.
With a bigger footprint in 2017, the annual festival gives attendees more space to enjoy original ciders from local and regional craft cideries, plus adds a craft and produce market.
Admission is $20 for a full event pass (includes entry into Cider Fest, five two-ounce taste tokens, and commemorative glass); $15 presale event pass (includes entry into Cider Fest, five two-ounce taste tokens, and commemorative glass). Visit hoodriver.org/cider-fest.
Entry-only costs $10. Admission is free for those under 21.
The host site is 3315 Stadelman Drive, just outside the community of Odell. Take Highway 35 eight miles south of Hood River, turn on Davis Road, and after about 300 yards, turn onto Stadelman Drive. Look for parking assistance from Lions volunteers.