Tucker Fitzsimons, 19, a 2016 Hood River Valley High School grad and college freshman, won the Open Class Men's Rail Jam at the 2017 USA Snowboard and Freeski Association (USASA) Freestyle Skier National Championships last week.
HRV junior Trey Roeseler, 17, won the Halfpipe event for the Junior (16- to 17-year-old) age group.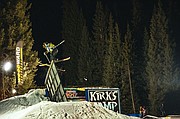 Fitzsimons and Roeseler competed among some 700 competitors from across the United States, 60 of whom traveled to Copper Mountain, Colo., to represent the Mt. Hood Region at the 28th annual event.
Fitzsimons, a freshman attending Westminster College in Utah, bested the field of 29 Open Men to claim top honors and the $2,000 cash prize in the Rail Jam, a unique event in which competitors hike up a short hill, ski down forward or backward (switch) and spin along steel rails, wall-rides and boxes to impress a panel of judges. Fitzsimons demonstrated amazing balance and skill, with his precise spins onto and off the rails. For example, his switch 2 (70 degrees) on, 4 (50 degrees) off the 10-foot wall-ride towards the end of his final heat made it clear that he had come prepared.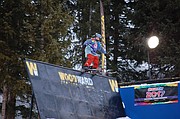 Roeseler's first run down Copper Mountain's 22-foot Superpipe included big airs with grabs, both ways 540 degree spins, and a "cork 7 (20)" final hit, which scored well with the judges. His 78-point (out of 100) run placed him atop the field of 14 competitors. The high score held through the second and final round, and Roeseler was recognized that night as the Junior Men's National Halfpipe Champion. He also participated in the 14-up Railjam and slopestyle events at nationals.
Unfortunately, a knee sprain, resulting from a 3-jump line that included three different 900 degree spins and an unexpectedly deep landing, sidelined Roeseler for the final event.
HRV frosh Ollie Stevenson laid down a solid 74-point, sixth-place qualifying run in the Youth (14- to 15-year-old) Slopestyle event, but narrowly missed the final cut amid a stacked field of over 80 competitors in that age group. Hood River's Myles Taylor scored a very respectable 69 in his qualifying run.
Luci Stevenson, Ollie's 13-year-old sister, executed a pair of very consistent slopestyle runs that included multiple 180 degree spins and a 360. She was awarded ninth out of 20 competitors in the Freeski Breaker Girls category.
Hood River's Avrie Van Tilburg was recognized with the Kindest Skier Award during the opening ceremonies.
Other Nationals-qualified skiers from the Gorge included Wyatt Burkhardt, Sammy Stevenson, Tristan Abel and Austin Abel.