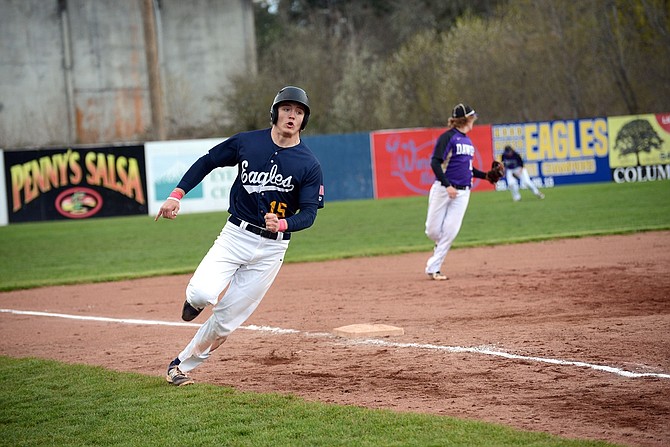 Over the past few years, it hasn't been often that a league rival has been able to defeat the HRV baseball team, let alone at home.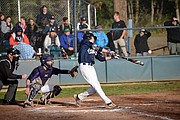 The Eagles (10-5, 2-0 Columbia River Conference) defended Traner Field with a great start to league play, defeating Hermiston (6-9, 0-2) in both games of a doubleheader on a chilly Friday evening. Though HRV won both games, they couldn't have been more different.
HRV 1, Hermiston 0
In the News' last story on HRV baseball, Head Coach Erich Harjo lauded the pitching performance of Connor Coerper, and the junior did not disappoint in the first game of the doubleheader, tossing a one-hitter, surrendering no runs, striking out six, and walking one in HRV's edging of Hermiston during a defensive battle. The Bulldogs' only hit came on a ground ball single to shortstop in the sixth inning.
"He's just consistent with his approach, trying to get first-pitch strikes," Harjo said. "In this particular game, he focused on the height of his pitches, trying to get the pitch down."
Coerper was backed by some superb HRV fielders, who cleaned up the pitches the Bulldogs were able to connect with, particularly Morgan Williams, who had a team-high five assists at second base.
"Morgan Williams had a ton of action in the first game," Harjo said of the senior. "Morgan's been one of those guys who hasn't been pleased with his performance in the field the past few games, so he focused real hard on the fundamentals, and it paid off."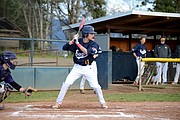 HRV outhit Hermiston 7-1, but had similar offensive troubles when it came to scoring, leaving runners stranded or hitting directly into Hermiston gloves. That ended in the bottom of the sixth, when Lucas Viuhkola singled on a line drive to center, which scored Jacob Smith, who had been pinch running for Trevor Lariza (team-high 2-for-3, single, double).
"I guess all we needed in that game was a run and a timely hit when we needed it, and we got it," Harjo noted.
HRV 14, Hermiston 10
The bats woke up for both teams in the second frame at Traner Field Friday evening, although it took Hermiston's a little longer to do so.
HRV took advantage of a flawed first inning by Hermiston's defense, scoring on an error and two bases-loaded walks. When the dust settled at the end of the first, HRV was up 6-0 and had chased Hermiston's starting pitcher off the mound.
Hermiston responded in the top of the second, scoring on a line-drive single to center, but the Eagles continued to pummel the Bulldogs, holding a 13-1 advantage heading into the fifth, and threatening to embarrass the Bulldogs with an early exit in the inning due to the 10-run mercy rule.
With the game seemingly in hand, Harjo retired starting pitcher Isaiah Enriquez (five hits, two walks, six strikeouts, one earned run) and put in reliever Trenton Hough. The Bulldogs strung some hits together, received the benefit of a couple walks, and scored a pair. Harjo swapped Hough (two hits, two walks, four earned runs) out for Losee partway through the fifth, but didn't blame Hough for the inning, pointing to a tired HRV team at the end of a long day.
"He did everything he could. That was purely a focus problem from top to bottom," he said.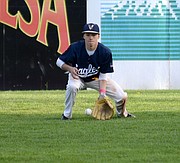 Losee also had trouble with the Bulldogs batter, who added another pair of runs to finish out the fifth inning down 13-6. Hermiston put up an additional four runs during Losee's tenure (four hits, five walks, two strikeouts, five earned runs) in the seventh inning, but couldn't quite catch the Eagles.
On offense, Losee couldn't be stopped. He went 4-for-4 with three singles and a double, tallying a team-high four RBIs. Also contributing to HRV's 12 hits were Adam Cameron (2-for-4, singles, RBI), Enriquez (2-for-3, single, double, RBI), Caden Leiblein (1-for-5, single), Coerper (1-for-3, double, two RBIs), Viuhkola (1-for-3, single), Casey Ward (1-for-2, single, two RBIs). Lariza also had two RBIs in the game as a result of a line drive to shortstop in the first, when he got on base due to an error.
Despite the hiccups in the second game, Harjo was pleased with the result.
"I feel good about it," he said. "It's always nice to get to wins off the bat."
HRV looked to lock up the series Tuesday when they traveled to Hermiston for a rematch (results not available at press time), then will head to Pendleton (6-9, 2-0) Saturday for another afternoon doubleheader.