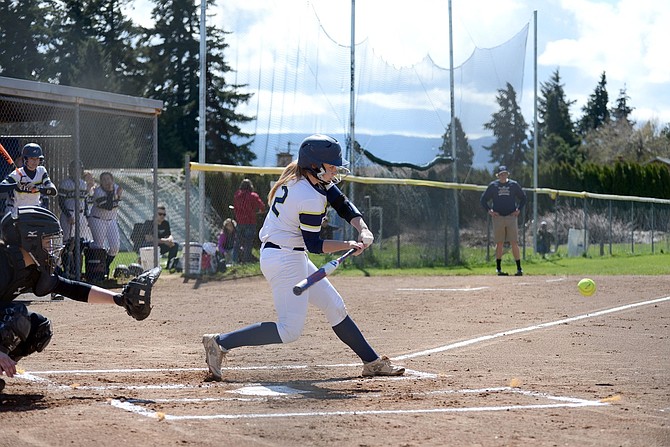 The weather was wonderful for the HRV softball team's league debut doubleheader Saturday, but for the Eagles, the result was even better.
HRV (8-7, 2-0 Columbia River Conference), shut out the Hermiston Bulldogs (6-9, 0-2) 6-0 in the first game of the twin bill, and then outlasted their league opponent 6-4 in the second game on a pleasant spring afternoon in Hood River. It was the first time in two years that the Eagles won consecutive league games.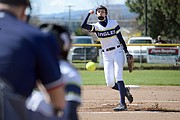 "Getting the sweep on Saturday is a great start for the girls entering the league schedule," said an enthused Eric Keller, HRV's head coach. "They came out with focus and determination. There was a sense of control throughout the day."
HRV 6, Hermiston 0
A dominant pitching performance by starter Hannah McNerney stymied Hermiston batters and opened the door for the Eagles to mount a six-run outburst in the sixth inning to break the defensive deadlock between the two teams. McNerney pitched a complete game, surrendering just two hits and a walk while throwing nine strikeouts. HRV's fielding was also on point, committing no errors.
"Hannah showed dominance in the circle and really focused on mixing speeds on the batter," Keller said. "Earned a season-high nine Ks in Game 1."
Both teams struggled on offense until HRV's turn at bat in the sixth, when Zoe Munn (1-for-3, triple) rifled off a triple on a line drive to right field that plated Haylee Baker (1-for-3, single) for the game-winning run. Also getting hits in the game were Lauren Decker (1-for-4, single, RBI), McNerney (1-for-2, single, RBI), Makena Zeller (1-for-3, single, RBI), Lizzy Weekly (1-for-3, single, two RBIs), Makenzie Chambers (1-for-3, single), and Emilie Ellifritz (1-for-3, single).
HRV 6, Hermiston 4
Play was less composed in the second frame, as the teams combined for 17 hits (HRV had nine) and six errors (HRV had four) as the Bulldogs and Eagles horse-raced through seven innings.
The Eagles got on board in the first inning with a run that Keller described as "a true team effort." Decker (2-for-3, singles, RBI), started out by singling on a line drive to left on the first play, then advanced to second on a sacrifice bunt by Baker. Then, a fly out by Munn (1-for-4, single, RBI) allowed her to move to third after she tagged up, and McNerney (2-for-3, singles, RBI) finished things off and sent Decker home with a single on a line drive to center.
The Bulldogs pulled ahead for the first time all afternoon, stringing four singles together, peppering all sides of the field with line drives, bunts, and grounders that put Hermiston up 2-1.
HRV responded in the fourth, knotting the game at 2-2 on a fly ball from Zeller (1-for-3, single, RBI) that sent Chambers (2-for-3, singles, RBI) home. The Eagles didn't enjoy the lead for long, though, as HRV committed three straight errors in the top of the fifth, and Hermiston made the Eagles pay, scoring on one of the errors, and then scoring again after tagging up on a ground out to go up 4-2.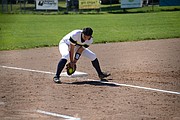 The home team shook off the bad inning and flipped it on Hermiston as Decker singled, then advanced to second on an error, and then third on a passed ball. Munn brought her home on a grounder to center, stole second, then scored on a pop fly by Chambers to left field, tying the game at 4-4.
After keeping the Bulldogs at bay in the top of the sixth, HRV pulled ahead for good in the bottom of the same inning, with the game-winning run driven in by Weekly (1-for-2, single, RBI) on a line drive to center that scored Ellifritz. Decker hit the insurance run on the next play, popping up to center that sent Zeller back to the dugout.
The Eagles had a committee on the mound in the second game, starting with Kaylin Winans, who threw three innings, during which she gave up five hits and two earned runs while striking out two. Decker threw two innings and change, giving up two hits, no earned runs, a walk, and striking out one. McNerney pitched again, tossing a little over an inning and getting credit for the win, surrendering one hit and striking out one batter.
Despite some of the issues on defense, Keller didn't seem particularly concerned.
"In Game 2, we went with a staff approach in the circle to get everyone some experience," he explained. "We had some miscues on defense (that) led to their four runs. Hermiston never gave up and battled throughout the day. At some point, they were going to make some solid contact."
HRV traveled to Hermiston Tuesday for a rematch against the Bulldogs in an attempt to take the season series (results not available at press time), then head to Pendleton on Saturday for a tough doubleheader matchup against the Buckaroos (14-2, 2-0), who were ranked second in the state as of Tuesday morning.