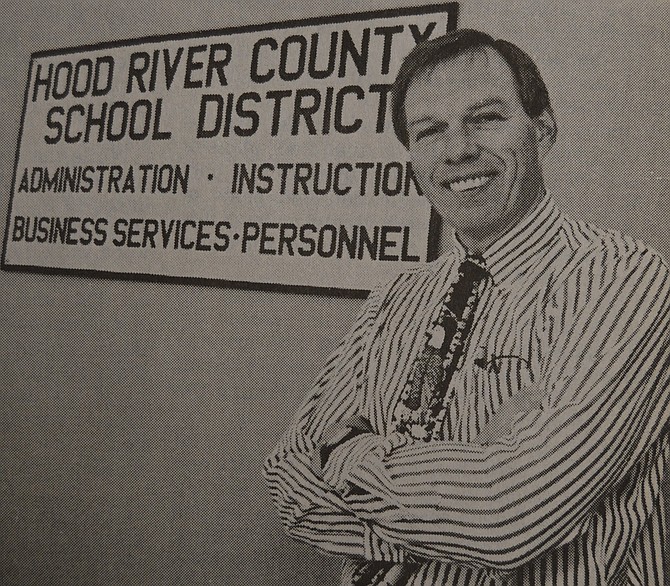 1917 — 100 years ago
In order to meet the increased demand for irrigation water during the coming summer, the city is taking steps to prevent its wasteful use. B.B. Powell has been appointed special inspector and will make an inspection of all taps in the city to see that the city ordinance is being complied with. During his first day's work Friday, he visited 19 houses in the lower end of town and found 17 leaky faucets. Users found to have leaky faucets will be notified to have them repaired.
1927 — 90 years ago
Old-timers are now devoting considerable time to discussion of the probable effect of the greatly-delayed spring on the Columbia River, especially when the snows begin to melt. It is conceded that, never before in the memory of those who have lived here 20 years, has there been as much snow in the hills as this season. Not only has there been no appreciable thaw since winter was officially over, but there has been a considerable addition to the snowfields in the mountains and foothills. South of Parkdale, there is now more snow on the Loop Highway and in the adjoining hills than there was a month ago, and even in the Green Point district several inches of new snow has fallen during the past 10 days.
1937 — 80 years ago
It has been accepted for some time that the Hood River fruit industry would see a definite move towards labor organization in 1937. While its benefits to both grower and laborer have long been recognized, actual organization has been slow to come about. After considerable debate and misleading, the Cannery Workers and Farm Laborers union, affiliated to the American Federation of Labor, claimed the right to grant a charter to the cannery and farm laborers. After probing the question, it was found that one group hadn't jurisdiction in their charter to organize this type of work and the other group had no credentials to organize this or any other type of local. A move is already being made to secure a national charter from Local 18,257, Seattle.
1947 — 70 years ago
The lure of apple blossoms, now at their best in the lower Hood River Valley, is bringing a party of Warner Brothers artists and photographers to Hood River this Friday evening, according to a telegram received at the Chamber of Commerce. They will be located during their stay in Hood River at the Columbia Gorge Hotel. Ed. Steele, secretary of the chamber, was asked by wire to locate an old-style tallyho coach and a surrey to be used as background for some of the shots — and this is where Steele admitted the visitors had one up on him. But he got busy, hoping his guess that these relics of the horse age might be found in the vicinity of The Dalles. It is expected that the visitors from Hollywood will stay over the weekend, and a number of local photographers and others are offering suggestion as to the best locations of apple blossoms and Mount Hood shots may be obtained.
1957 — 60 years ago
Bids on the building addition to Memorial Hospital amounting to $458,350 were approved by trustees Tuesday, and construction is expected to start early in May, pending final approval of bids and specifications by Hill-Burton federal aid officers. Administrator Glenn Howell reports that the combined bids on the project were about $15,000 under the anticipated cost. This is contrasted with bids last July which were rejected because they were almost double the estimate. Although it is too early to ascertain total cost of the building addition, it is thought that it will be about $550,000, including the equipment.
1967 — 50 years ago
Pine Grove Grange Master Allen Moore could summarize the valley's newly expanded Blossom Festival in a single sentence after the last visitor had left the Hood River area Sunday. "Everyone cooperated beautifully — except the weather." But the cloudy skies that shadowed the valley didn't keep the total crowd from being the largest ever served food at a Blossom Day festival. Pine Grove served at 1,600, including its helpers; Parkdale Grange reported feeding another 470; the Lions and Saddle Club reported serving about 200 persons each.
1977 — 40 years ago
The old bell at Oak Grove School hasn't sounded for years, but it created more attention here last week than it did when it was ringing kids to classes. The old bell has been stored since Oak Grove School closed, replaced by the new Westside Elementary. Property from the old school has been turned into a park, and park boosters have developed a plan to incorporate the bell into a monument and park marker. But recently heirs of the school's founder came up with a different idea. They want the bell in the new county museum, where they say it will be safe from vandalism. The bell issue has been tabled, and the school board will take time to consider the arguments before seeking a decision at a meeting April 27.
1987 — 30 years ago
A plan to assure there will be a swimming pool in Hood River in the years to come was outlined here Monday for county commissioners by a committee which formed to pursue that goal. About 10 backers of the program brought the plan to the commission, asking the county to consider placing a bond issue before the people of Hood River County as one way to preserve a program they consider important to everyone. Mike Schend, Community Education director, was spokesman for the group. He explained the committee wants either to start work toward reconstructing the present pool or building a new facility. He explained that the city, which now owns and operates the county's only municipal pool, has taken final action to seal its fate. "They are going to make needed repairs and operate the pool this summer," he said. "However, the opening is contingent on our committee raising $6,000 to help in the cost of repairs. As of Sept. 1, 1987, the city is closing the pool and will not be operating the pool facility in the future."
1997 — 20 years ago
Money from its timber lands is once again shielding Hood River County from budget cuts. The county budget committee began its work last week with a proposed 1997-1998 budget already in balance, thanks in part to an increase in revenue from the county timber deposit fund and interest account. Those funds, which hold money from timber sales on county forest land, more than offset the revenue cuts anticipated from Ballot Measure 47. The proposed budget includes few frills, however. Aside from the addition of a small amount of part-time help in the health department, no additional personnel will be added to the county workforce.
2007 — 10 years ago
Local beekeepers say their colonies ae in good shape this spring despite some losses in the overall industry. Beekeeper Mary Edwards, of Dee's Lost Lake Apiaries, said she and her husband, Bill, ended up in good shape this spring even though they lost 500 colonies in 2006. "We are just now home from California with 800 to 1,000 colonies," she said. "We had a good winter with no losses." Scientists have named the losses Colony Collapse Disorder (CCD), which describes the situation when bees vanish from a hive. While beekeepers lose some bees each season, the disorder happens when bees don't return.
— Compiled by Trisha Walker, News staff writer