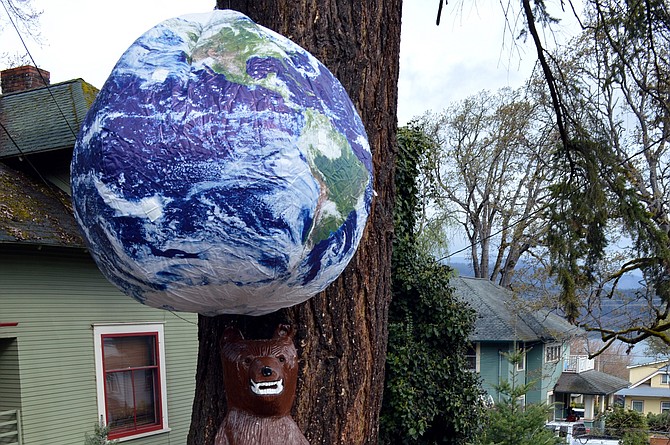 Earth Day, Saturday, April 22, has expanded to Earth Week, with events in Hood River, The Dalles and White Salmon/Underwood beginning this weekend and continuing into next, culminating in The People's Climate and Justice March on Saturday, April 29. There are also other earth-friendly activities planned, from plant sales to shred days to film viewings.
Conservation, faith, business, education and art groups have come together to put on an array of climate-focused events in late April.
Earth Day Events
• April 22 — Columbia River beach cleanup. 10 a.m. to noon, meet at the Hood River Spit Parking Area downstream from the Hood River pedestrian bridge. Or in Vancouver: from 9 a.m. to noon at Frenchman's Bar Park 7495 N.W. Lower River Road, Vancouver. Coordinated by Columbia Riverkeeper and FootWise Hood River.
• April 22 — Earth Day at the Columbia Gorge Discovery Center, 9-3 p.m., 5000 Discovery Dr., The Dalles. Native plant walk, cleanup projects; learn about environmentally focused organizations and resources. More at www.gorgediscovery.org.
• April 22 — March for Science, 10 a.m. at Rheingarten Park, White Salmon. Begins with a science fair and speakers; march begins at noon. Updated speaker and event list at facebook.com/ScienceMarchWS. Includes Procession of the Species.
• April 22 — Cascade Locks cleanup. Runs from 9 a.m. to 1 p.m. Meets at the Port of Cascade Locks, 198 Industrial Park Way. Look for the "Solve" sign to find other volunteers. More information at http://www.solveoregon.org/get-involved/events/cascade-locks-earth-day-cleanup
• April 23 — Riverside Community Church and Mid-Columbia Unitarian Universalist Fellowship, both in Hood River, will offer earth-centered services. See A5 in the April 22 edition of the Hood River News for more information on Riverside's service.
• April 24 — Fossil Fuel Divestment, 7-8:30 p.m. at Riverside Community Church. Free. Presented by Rev. John Boonstra.
• April 25 — Global Migration Crisis, 7-8:30 p.m. at Riverside Community Church. Free. Presented by Tina Castañares.
• April 26 — The Joy of Clean Energy, 6:45–8 p.m. at Hood River Middle School Music and Science Building. Free. Tour and presentation by Eric Strid.
• April 27 — Confronting the Fossil Fuel Agenda, 7-8:30 p.m. at Riverside Community Church. Free. Presented by Peter Cornelison, field representative with Friends of the Columbia Gorge, and Mosier Mayor Arlene Burns.
• April 28 — Wine and the Art of Protest Sign Painting, 5-7:30 p.m. at AniChe Cellars. Materials provided, or bring your own.
• April 29 — Earth Day Volunteer Event, 9-11 a.m. along Indian Creek. Sponsored by Hood River Watershed Group and Indian Creek Stewards. Help restore a section of Indian Creek from invasive weeds. Meet on Broken Tee Drive at the field just west of the golf course. Bring gloves, shovel or wheelbarrow. Snacks provided.

•April 29 — People's Climate and Justice March, 11-12:45 p.m., traveling from Waterfront Park to the Hood River Library. Part of the nationally-organized march to strengthen climate and justice movement and to demand action.
Conservation groups are planning climate justice and social justice marches in Washington, D.C. and all over the country.
"We believe that in this moment of division, turmoil, and fear, it's important to put forward an alternative vision that inspires and connects," 350.org founder Jamie Henn wrote in a statement. The group spearheads the nationwide event.
10 to 11 a.m.: Yoga and Earth Centered Movement, Hood River Waterfront Park Amphitheater
11 to 11:30 a.m.: Opening ceremony with Hood River Mayor Paul Blackburn, Rev. John Boonstra, HRVHS Earth Action Club & Music.
11:30 to 12:15 pm: March from Waterfront Park to the Hood River Library Lawn
12:15 to 12:45 pm: Closing ceremony on the Hood River Library Lawn; if rainy groups will relocate to the Riverside Church chapel.
Earth-Friendly Events
• April 21-22 — Native Plant Sale at OSU Extension cold storage building. 1-5 p.m. April 21 and 9-1 p.m. April 22; first come, first served. Sponsored by Soil and Water Conservation District.
• April 22 — Community Cleanup Day in Odell. Everyone in Odell is encouraged to sweep sidewalks, trim shrubs, haul debris and change flat tires to get Odell looking good for spring.

• April 22 — Rural Hazardous Waste Collection Event, 10-2 p.m. at the Parkdale Fire Department. More at 541-506-2636.
• April 27 — Film, "Gaining Ground," 7 p.m. at the Hood River Library. Film about growing food and empowering communities. Free; more at 541-386-2535, info@hoodriverlibrary.org, or hoodriverlibrary.org.
• April 29 — Underwood Community Gardens Open House Plant Sale and Seed Swap, 9-1 p.m. behind the Underwood post office, corner of School House and Cook-Underwood roads. Magic show 11 a.m., face painting, balloon animals, goat milking demo 10 a.m., flower planting, giant bubbles and more. Intro to youth summer garden programs and new Free Little Library.
• April 29 — 14th Annual Plant Sale, 9-2 p.m. in the parking lot across from Thriftway Harvest Market in White Salmon. Sponsored by St. Joseph's Church. Locally grown, Gorge-hardy annuals, perennials, veggies and herbs by Vanguard Nursery. Planters for Mother's Day. Master Gardeners available to answer questions.
• April 29 — Free Community Shred Day, 10-1 p.m. at Cascade Central Credit Union, 1206 12th St. Limited to three bankers' boxes per person (staples, paper clips OK). Donations accepted for CCCU scholarship fund.
More details about Columbia Gorge Climate Action Network events are available at www.cgcan.org/earth-week-2017-actions/