The HRV boys lacrosse team ended their nonleague schedule on a high note Monday evening, teeing off on the struggling Wilsonville Wildcats (1-6) at the high school, winning 20-9.
Although the weather made field conditions slick, which resulted in some sloppy play, the Eagles have thrived in their past two contests, both of which have been soakers, and both have been 20-goal affairs for HRV. The Eagles (3-2) cruised out to a 6-0 lead within the first 10 minutes of the first quarter and kept Wilsonville at bay the whole game thanks to the home team's ability to dominate possession.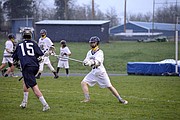 "We were able to just possess the ball. The longer we hold the ball, the less chance they have to score," HRV Head Coach Matt Luchsinger said.
Some of that ability to control the ball stemmed from HRV's prowess on faceoffs, as the Eagles only lost a handful of draws. Midfielder Alex McAlpine had a hand in many of those.
"Even though we haven't faced everyone yet, I am confident saying he is one of the best faceoff guys in the state," Luchsinger said. "He's coming away with faceoffs every game, which is why we're able to control the ball and win games."
Bruce Ostler, Jackson Lebsack, Cale Brown, Henry Barton (who returned from injury this game), and Cody Wheat each had three goals; Jack McCaffrey and Levi Glass had two; and Steven Crouch had one. Ostler and Crouch also had two assists each, while Lebsack, Brown, Wheat, and McAlpine had one. Justin Smith had five saves.
Luchsinger also lauded the performance of junior Taylor Peterson, a long stick middie who recently joined the team — which was good timing since the HRV's usual LSM, Andrew Gino, was out with an illness. The team was also missing Alex Munoz and Wyatt Mansfield due to illness and injury, respectively, who are the only two seniors on defense, with Mansfield serving as a team captain. Luchsinger called Peterson the "player of the game," due to his ability to step up so quickly — as well as collect four ground balls.
"He did very well. That kid is a hard worker. His hustle on and off the field is great," he said.
Luchsinger and his players now turn their attention to the Columbia League schedule, which starts Monday with a contest at Central Catholic (4-4). Last year, the team lost to the Rams 14-13 in overtime during the regular season — a fact Luchsinger, nor his players, have forgotten.
"I know these kids want to go out and compete with them since we lost to them in overtime last year due to some simple mistakes," he said, adding that he wanted to see his players more disciplined and prepared this year for what is a hyper-competitive league in 2017. With the exception of Cleveland, every team in the league at .500 or above.
"From here on out, it's going to be an extremely tough fight," Luchsinger noted.