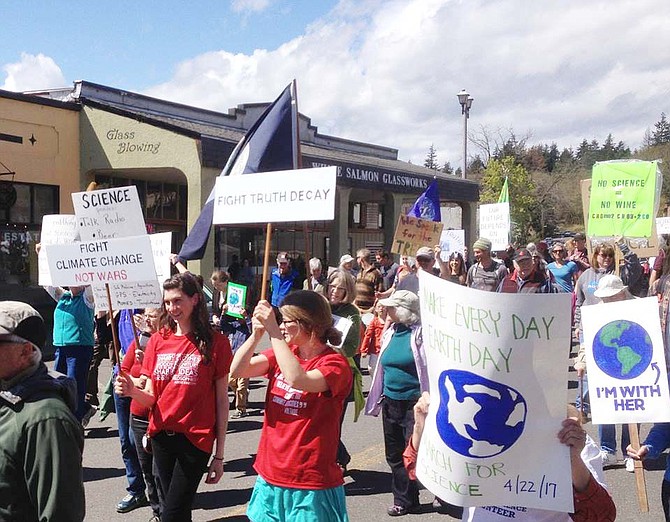 A coalition of youth, indigenous, Latino and environmental groups are planning a People's Climate and Justice March on Saturday, April 29 in Hood River.
This march will be one of 250 sister marches to be held across the country and around the world that day, according to a press release. At the main march in Washington, D.C., an anticipated crowd of thousands will surround the White House.
According to Rev. John Boonstra from Hood River, "The purpose of this march is to directly confront Donald Trump and challenge those who are pursuing a right-wing agenda that destroys our environment while favoring corporations and the 1 percent over workers and communities."
"We believe that in this moment of division, turmoil, and fear, it's important to put forward an alternative vision that inspires and connects," 350.org. Founder Jamie Henn wrote. "If we don't put forward our own vision — of an economy built on justice and powered by clean, renewable energy — then we let fossil-fuel-soaked nationalism, xenophobia, and hatred win. We need to show that more people still believe in our shared vision for the future than in Donald Trump's."
The day's schedule of activities is:
• 10-11 a.m. — Yoga and Earth Centered Movement, Hood River Waterfront Park Amphitheater
• 11-11:30 a.m. — Opening Ceremony at the amphitheater, with Hood River Mayor Paul Blackburn, Rev. Boonstra, and the HRVHS Earth Action Club, with music from Lynn Thomas
• 11:30 a.m. to 12:15 p.m. — March on the sidewalk from the Hood River Waterfront Park to the Hood River Library lawn. The march will be led by youth from the HRVHS Earth Action Club with musical accompaniment from bagpiper George and chants from the marchers
• 12:15-12:45 p.m. — Closing ceremony on Georgiana Smith Gardens lawn next to Hood River Library, with Mosier Mayor Arlene Burns, Hood River Councilman Peter Cornelison, Ubaldo Hernandez from Columbia Riverkeeper and Yakama General Council member/Celilo Village resident Raymond Estrada. Music will be provided by Dennis Castañares, aka Alonzo Garbanzo.
"After 100 days of this administration, it's our time to show our resilience, to show that we're still here, that we're only getting stronger, that we're multiplying and that we're never giving up on justice, or on the people," said Angela Adrar, executive director of the Climate Justice Alliance. "The Peoples Climate March is about building and deepening connections and linking the intersectionality we need in this moment. On April 3o, our movement will be stronger and more prepared to rise than on April 29, but we will need everyone to rise together."
"Around this country, working people understand that we don't have to choose between good jobs and a clean environment; we can and must have both," said Cornelison, Hood River councilman and Friends of the Columbia Gorge staff member. "Together we can tackle climate change in a way that will ensure all Americans have the opportunity to prosper and live in neighborhoods where they can breathe their air and drink their water. We can be free from the threat of fossil fuel transport in the Columbia Gorge and Pacific Northwest. We will build a clean economy that leaves no one behind."
Columbia Gorge Climate Action Network (CGCAN) is the local march's organizer and is sponsoring a full week of climate and justice events that can be seen at www.CGCAN.org. CGCAN has a monthly e-newsletter and meetings on the third Monday of each month at 6 p.m. at Riverside Church in Hood River, and is engaged in strategic conversations and actions about how to move to a just, renewable and clean energy economy.
More Earth Week events
• April 25 — Global Migration Crisis, 7-8:30 p.m. at Riverside Community Church. Free. Presented by Tina Castañares.
• April 26 — The Joy of Clean Energy, 6:45–8 p.m. at Hood River Middle School Music and Science Building. Free. Tour and presentation by Eric Strid.
• April 27 — Confronting the Fossil Fuel Agenda, 7-8:30 p.m. at Riverside Community Church. Free. Presented by Peter Cornelison and Mosier Mayor Arlene Burns.
• April 28 — Wine and the Art of Protest Sign Painting, 5-7:30 p.m. at AniChe Cellars. Materials provided, or bring your own.
• April 29 — Earth Day Volunteer Event, 9-11 a.m. along Indian Creek. Sponsored by Hood River Watershed Group and Indian Creek Stewards. Help restore a section of Indian Creek from invasive weeds. Meet on Broken Tee Drive at the field just west of the golf course. Bring gloves, shovel or wheelbarrow. Snacks provided.