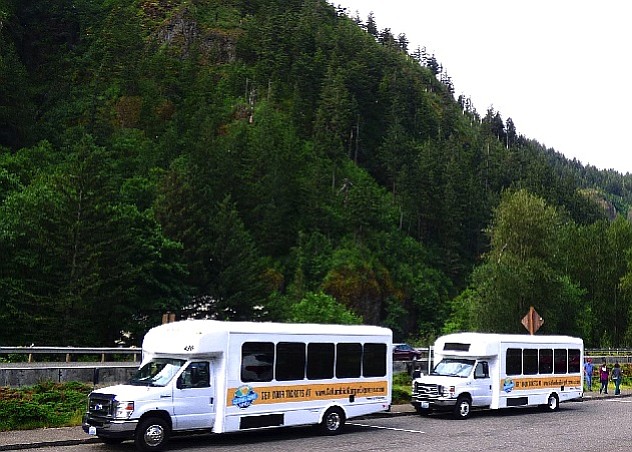 Back by popular demand, Oregon Department of Transportation's shuttle service between Multnomah Falls and Portland will roll up again in May.
The pilot program, now in its second year, offers weekend trips to the waterfall destination between May and September for $5.
A Hood River extension of the route is still in the works, as ODOT considers ways to add a stop here in 2018, along with a couple other possible Gorge destinations.
Don Hamilton, ODOT spokesman, told the News this month that no finite date has been set for the 2017 re-launch of the service that goes from Gateway Transit Center in Portland to Rooster Rock State Park and Multnomah Falls, but the agency hopes it will start by Memorial Day Friday, late in the month.
The program exceeded its expected ridership last year, with more than 30,000 trips on the odometer.
Gorge Express will see some improvements this year, Hamilton said:
• A larger bus to reduce wait times.
• Shelters and benches at Rooster Rock State Park and Multnomah Falls stops.
• An ODOT staff member during service hours who will answer rider questions and inform them when the next bus is due.
• A newly hired program manager to lead the project and plan for Gorge Express' development and future growth.
The Hood River extension is slated for next spring, based on options ODOT has been considering. It would likely run seven days a week, according to agency staff, as opposed to the weekend outings currently offered by the Gorge Express bus.
Kristen Stallman, ODOT Columbia Gorge Scenic Area coordinator, explained last fall that some other potential stops include Cascade Locks, Eagle Creek Trail, Pacific Crest Trail, Bonneville Dam, and the Historic Columbia River Highway State Trail.