Vanessa Silva and Alexander Pedroza, both Hood River Valley High School seniors, have been selected as the March Elks Students of the Month. Both were presented checks for $100 in recognition of their volunteer efforts in the community and their achievements at school during a recent lodge meeting.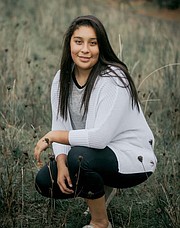 Silva is the daughter of Rodrigo Silva and Maricela Perez.
She has been busy academically, having taken Honors English, Spanish for Spanish speakers, AP Spanish, Advanced Placement Human Geography, and Advanced Placement Government classes, as well as Writing 121/122.
Silva has worked for Webster Orchards and The Fruit Company, but her volunteer work starts with the LEOs Club at HRVHS. She regularly helps sort bottles and cans at their monthly can drive. The money from this fundraiser is put towards various community charities, including Relay for Life and March of Dimes. She has helped orient freshmen to the high school on LinkDay, by giving them tours of the high school and explaining how things work.
She's also worked at the local FISH Food Bank, helping people find food, bagging the food, helping load their cars, and translating for the clients and staff. She has spent many hours volunteering for soccer, youth soccer in particular. An avid soccer player, she has worked as a youth soccer camp counselor, refereed for Community Ed league soccer, coached a third-grade team, and led a camp that was part of the Portland Timbers youth development program. She helps set up fields, coaches, refs, and is a well-known local player.
Silva is the goalkeeper on the HRVHS girl's team. She was a team captain and leader in the team's playoff run this past year; she has earned many awards as a player, including Second Team All-League as a freshman and as a sophomore, and First Team All-League and Goalie of the Year in 2014-15, and this past year as well. She has been the school's starting goalkeeper for four years. In fact, her most valuable community service project was putting together a camp for goalkeepers. There aren't a lot of goalkeeper coaches in the community, and she was able to help younger players develop these highly needed and unique skills.
Silva plans to play soccer for Johnson Community College in Overland Park, Kan. She is looking forward to majoring in exercise science. Her sister, Cristina, attends the University of Oregon.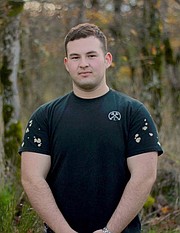 Pedroza is the son of Efren and Erika Pedroza, and he is involved with athletics, school clubs, and advanced courses. He has been wrestling for HRVHS since his freshman year. He has placed sixth in the state for Freestyle and fourth in the State for Greco.
Pedroza has been a volunteer for the Wrestling Club for four years, registering young wrestlers and helping to run tournaments. He has set up relay races at the marina and helped with litter patrol as part of the Wrestling Club's activities.
Pedroza is a member of the LEOS Club and dedicates time to attending meetings, planning events, and participating in different community service opportunities. With LEOS, he has worked at the concessions stand and collected bottles and cans for recycling. The money raised goes to organizations in our community that need a helping hand. He is also a member of the HRVHS Juntos, a club that focuses on community service, serves as a resource for college information, and supports Latino students who want to go to college. He is a volunteer for the Robotics club, setting up competitions and fairs and refereeing at small competitions.
He also volunteers at the FISH Food Bank and Adopt a Dog. He is a member of the National Honor Society and is an AVID tutor. His really enjoys tutoring others in math. One of his biggest accomplishments as a tutor was when, as a freshman, he tutored a senior who was at the risk of not graduating because of his failing grade in math. Pedroza helped that senior pass his final and graduate.
Pedroza's list of advanced courses includes AP Calculus AB and BC, AP Physics, AP U.S. History, Honors Medical Biology, and Writing 121/122; he's also completing college credits for Spanish 101, 102, and 103. He holds a 3.93 GPA and is bilingual.
When not involved with classes or volunteer work, Pedroza likes lifting weights, hiking, doing 3D CAD design, and working at his job at Subway. He plans to attend Oregon State University next fall.