Ruby Patterson won second place in Original Oratory at the OSAA State Speech competition on April 22.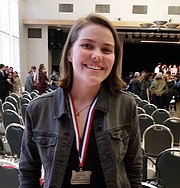 Junior Mason Leavitt made it to the semi-final round of competition in Radio Commentary. Hood River Valley High School took 18 students to the state tournament, which was held at Western Oregon University in Monmouth.
According to coach DeLona Campos-Davis, "The competition was especially challenging this year, but our young team had a good showing in their preliminary rounds."
The only senior to compete for HRVHS at district and state was Douglas Asai, who competed in both Lincoln-Douglas debate and Extemporaneous speaking. The team is currently recruiting new members in preparation for next year.