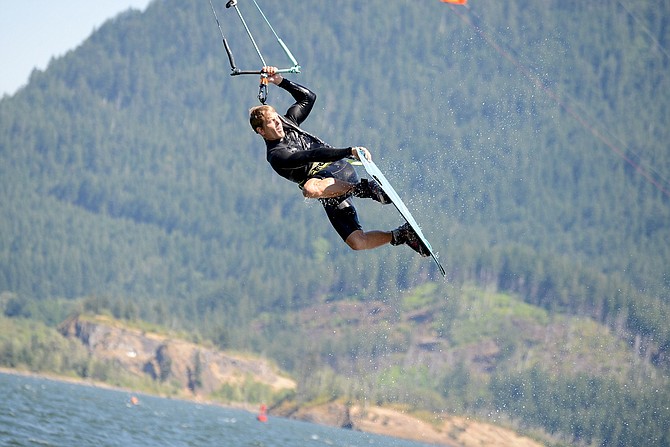 After light winds postponed the Gorge Blowout two weekends ago during the Bridge of the Gods Kitefest, the 17-mile downwinder from Stevenson to Hood River went off Saturday afternoon.
Grom Gormley, one of the event organizers, said the "smooth waves and steady winds" at the Blowout made for the "nicest (run) I've ever done in 10 years." The event saw 54 people compete, with 48 finishing.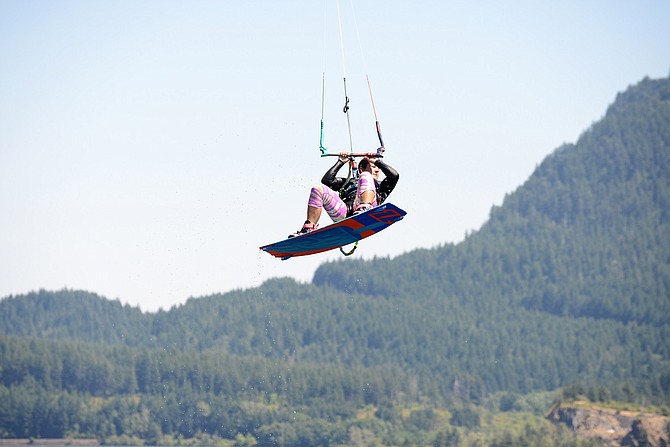 Taking first place overall was local pro rider Brandon Scheid, who finished the course in a super-speedy 45 minutes flat. Scheid has had quite the past week and a half, finishing second in the pro competition the previous weekend, and earning overall champ honors at the Spornado Hood Jam freestyle kiteboarding contest in Hood River late last week. Rounding out the top three men were Eric Rienstra (46:11) and Matt Elsasser (46:20).
The top three women were Justi Vonada (1:03:80, 18th overall), Sensi Graves (1:14:30, 26th), and Michelle Dodson (1:19).
Team results were based on a point system dependent upon where you finished, and the team that had the lowest cumulative points won. Also, teammates who finished consecutively got to deduct 20 points from their aggregate score. Three consecutive finishers meant a 36-point deduction. If a team had people finish one rider apart (every other), 10 points were deducted.
Top team finish went to the group of Scheid (first), Levi Roeseler (seventh), Mark Barnes (19th), and Taylor Carr (20th), who combined to score 27 points. Next were Tony Bolstad (13th), Brodie Sutherland (15th), Andy Obrien (24th), and Darren Schouten (25th), who scored 47 points. Close behind in third were Rich Sabo (fifth), Gormley (sixth), Pepi Gerald (21st), and Colson Zack (37th), who scored 49 points.
Other honors went to Jacob Beuselinck (Wipeout), James Ropner (Stoke), Kirk Zack (Sportsmen), and Mark Barnes (Pony Tail, a designation given to the first male rider who finishes directly after the first female rider).
For complete results, go to nwkite.com/forums/f-1.html and scroll down to "Blowout Results."