Over the past six years as a reporter for Columbia River Gorge newspapers, I've covered pretty much every beat there is, from local to county government, to crime, to breaking news, to features, and most recently, local and high school sports. I've been involved in nearly every aspect of producing a newspaper: I've written, edited, photographed, designed pages, updated the website, posted on social media, and even delivered papers. Such is life working for a small, community newspaper.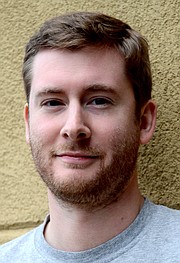 For now, and possibly forever, that part of my life is coming to an end. Though my byline may appear on occasion as a freelancer, this will be my last edition at the Hood River News. I've decided to go back to school to get a master's degree in multimedia journalism at the University of Oregon's Portland campus. My replacement for covering the sports beat will be announced shortly, but for now, if you do have sports-related content or news tips to send, please email them to hrnews@hoodrivernews.com. You can call 541-386-1234 if you have questions.
Journalism has always been a difficult career, and that is the case now more than ever. I've had friends forward me listicles about how journalism is one of the lowest ranked jobs in the world due to salary, stress, and industry outlook. I've seen the articles about buyouts, mergers, and closures. And though I've never once editorialized about politics in my six-year career in the Gorge, worst of all, there is now a sector of the American public who are mistrustful and openly hostile to journalism and journalists, spurred on by President Donald Trump, who has referred to the media as "the enemy of the American people."
What a time to be alive.
However, one of the many things we have learned about our country since the November 2016 general election is that now more than ever, there is a hunger for journalism. Subscriptions to the "failing" New York Times and Washington Post surged, with some of that money reinvested into editorial departments. People desperately want to know the truth.
I wanted to take the time to give thanks to you, the readers of the Hood River News, who continue to support us, just like you do with so many other community businesses. We need you, so that we can continue to deliver the news to you, carrying on a tradition that started with the founding of the newspaper in 1905. Thank you for what you do, for recognizing the importance of staying informed, for supporting local journalism.
Thank you for those who keep sending us story ideas and content. We have a small editorial staff here, and we can't be every place at every time. Some of the best ideas, even at larger papers, have come from the members of the public who have a story to tell, or a story that must be told.
And as for my most recent beat (I moved primarily over to sports in 2015), I wanted to express my thanks to the athletic departments of both Hood River Valley High School and Horizon Christian School, both administrators and coaches, as well as those who are responsible for running the many non-scholastic sports and competitions in this community. Coaches, I know how passionate you are about your sports, about your kids, about the community. I have seen it first-hand. I'd also like to thank the many wonderful, inspiring student-athletes I've met over the years. We are supposed to be objective here, but we are all rooting for you, both in and outside of sports.
Good luck next season, and beyond.
— Ben