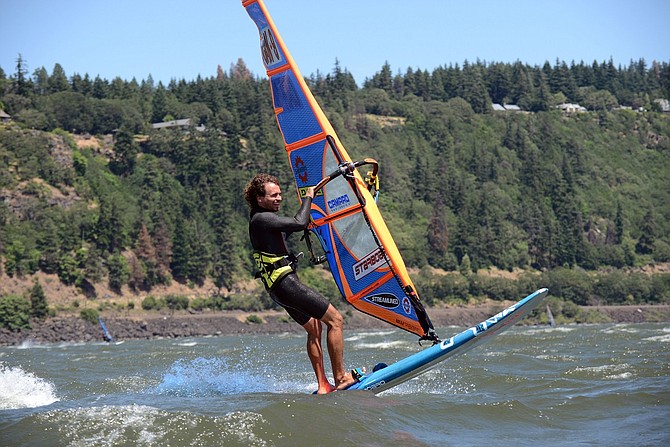 The fifth race of the Gorge Cup occurred last Saturday at the Hood River Event Site and after the final heat finished, the leaderboard of the annual windsurfing slalom series looked very much the same as it did heading into the final weekend of racing.
Phil Soltysiak took top overall honors Saturday, winning three out of the seven heats leading the open men category. Next was Bryan Metcalf-Perez, who won one heat in the same category, MacRae Wylde, who took two heats, representing the grand masters category, and Wyatt Miller, also in open men, taking first in one heat and finishing fourth overall.
It was another strong performance by Wylde, who was the 2015 Gorge Cup champion and is in the lead position to take the trophy again in 2017, atop the standings with 12 points after Saturday's race. Soltysiak is behind him with 18.7 points while Jay Salzman, Sam Bauer, and Bill Czinege are still locked in a three-way tie for third with 23 points apiece. Bruce Peterson, perennial Gorge Cup winner who finished first in 2016, is nipping at their heels with 23.7 points.
So far this season, 38 riders have competed in at least one Gorge Cup race, with 23 riders registering for Saturday's competition. Other divisional winners from Race 5 included Stefan Lidington (masters), Salzman (senior grans masters), and Al Madere (junior).
Current category leaders are Wylde (grand masters), Soltysiak (men), Salzman (senior grand masters), Igor Landais (masters), Fiona Wylde (open women), and Tyler Czinege (juniors).
The final weekend of Gorge Cup racing will be Aug. 12-13, which will be two separate races. For more information on the Gorge Cup and for complete results, go to gorgecup.com.