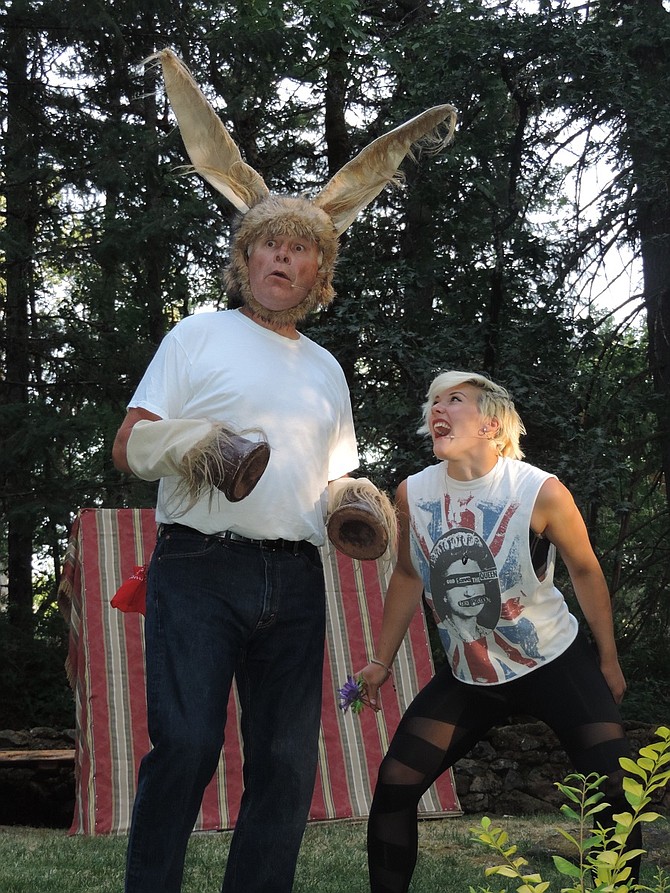 William Shakespeare's "A Midsummer Night's Dream" opens Aug. 3, in dinner theater, on the lawn at Stonehedge Gardens.
It is a fitting space for a play set "in the palace wood, a mile without the town, by moonlight," as described by character Peter Quince.
The Plays for Non-Profits production, directed by Lisa Roth, benefits Mid-Columbia Children's Council and Columbia Gorge Peace Village. It follows a string of Shakespeare plays in a kind of Hood River Bard revival in recent years: "Twelfth Night," "MacBeth," "Romeo and Juliet," and "Much Ado About Nothing," on local stages since 2013.
"Dream" has been described as the world's most popular Shakespearean play, for its wit, action, romance and large number of laughs.
One character remarks, "More strange than true: I never may believe
These antique fables, nor these fairy toys.
Lovers and madmen have such seething brains,
Such shaping fantasies, that apprehend
More than cool reason ever comprehends."
A lot of wild stuff happens in this. Much unfolds, scatters, and returns in other forms. The plot is a busy one, with three or four separate romances adding up to an idyllic tale of love lost and regained, and an absurd play-within-a-play.
Characters fall into three main groups: Earthly lovers, a quintet of fools, and magical forest beings led by the complex Oberon and Titania, king and queen of the fairy realm.
Oberon is the behind-the-scenes mover, who at a critical point instructs his assistant, Puck (Sienna Reynolds):
"My gentle Puck, come hither.
Fetch me my flower; the herb I shew'd thee once:
The juice of it on sleeping eye-lids laid
Will make man or woman madly dote
Upon the next live creature that it sees."
The play "Thisby an Paramus" involving the five comic "Mechanicals," a traveling troupe led by Pete Quince (Tom Burns) rehearses and wrangles, and certain members fall under love's spell.
No spoiler alert here, for it is a well-known thing that a man transformed into a donkey rests at the Bottom of this deep well of mirth. On full display here are the reliable Shakespeare device of mistaken identities and magical transformations for the sake of love.
As Lysander famously remarks, "The course of true love never did run smooth."
Roth notes in the program, "'A Midsummer Night's Dream' brings out the best and the worst in its characters and allows us to laugh at their folly and joy.
"We all struggle. We all have burdens and sorrows we bear. And tonight, we will celebrate with one another and be merry."
Roth wrote in an email, "My choosing to direct 'A Midsummer Night's Dream' came directly from my mother's comment when I told her I was directing 'Macbeth' for Columbia Center for the Arts in 2013: 'Can't you do something less morbid?' You can't get less morbid then this fun, fantastical romp in the woods with fools, royalty, lovers, and the fairy folk."
Roth added, "The happy synchronicity of doing a play about being in a forest performing in the lush beauty of the Stonehedge Restaurant backyard space has been such a treat and an inspiration to us all." There is a distinct "back to the garden" feel to this staging, including the use of '60s pop songs.
Roth has brought "Dream" out of some vague Elizabethan timeframe. The humans live in the world of the '50s: rules, propriety, and patriarchy is the norm. The fairies exist in the '60s: adventurous, breaking norms, and (exploring) creative freedom. In this anniversary of the Summer of Love, the nether characters hang out in tie dye, head scarves, feathers, beads and other psychedelia.
"I think the hilarity and joy of this production is due to the mirror it holds up to our most foolish moments, significant friendships and our high school dramas," she wrote. "To help the actors deepen into the story, I had them all break into groups to agree on their backstory, to decide on a group secret unshared to the rest of the cast, and an individual secret shared only to me and Assistant Director Sam Hannigan. Our agreement was not to share our secret stories until after the show is over, but I have to say that this cast is creative, imaginative, and wonderful to work with.
"As for doing a play within a play — giving actors permission to go bold and be silly is probably the easiest direction I've ever given!"
This year's Plays for Non-Profits troupe includes veterans of community theater: Tom Burns, Gregory Gilbertson, Kathleen Morrow, David Dye, Bruce Ludwig, William Thayer-Daugherty, Ashly Dalene, Barb Berry, Anastasia Valentine and Jason Carpenter.
"Actors Erik Lundby, Elena Lundby, and Amy Courtney have also made a name for themselves and are starting to be regular performers in our community. Our younger actors you may have seen before on the high school stage as well as last year's production on 'Oklahoma' are Ann Marie Goodman, Rory Krehbiel, and Atari Gauthier. We also have new comers to Plays for Non-Profits but not of acting: Eden McGrew, Nathan Daniel, and Alejandro Gomez."
•
Tickets and Times
Performances are Aug. 3-4 and Aug. 10-11, with a buffet dinner at 6 p.m. followed by the show at 7:30 p.m., and Aug. 6, with 4 p.m. dinner and 5:30 p.m. show.
Tickets are $50 for adults, $45 for seniors and $40 for students 17 and under.
Buy tickets at Waucoma Books and www.showtix4u.com.
CAST: Erik Lundby, Theseus; Barb Berry, Hippolyta; Amy Courtney, Philostrate; Tom Burns, Egeus/Peter Quince; William Thayer-Daugherty, Lysander; Ashley Will, Hermia; Anne Marie Goodman, Helena; Jason Carpenter, Demetrius; Bruce Ludwig, Bottom/Pyramus; Kathleen Morrow, Snug/Lion; Alejandro Gamez, Snout/Wall; Nathan Daniel, Straveling/Moon; David Dye, Flute/Thisby; Gregory Gilbertson, Oberon; Eden McGrew, Titania; Sienna Reynolds, Puck; Elena Lundby, Peasblossom; Rory Krehbiel, Cobweb; Atari Gautier, Moth; Anastasia Valentine, Mustardseed.
Producer, Lynda Dallman; assistant director, Sam Hannigan; stage manager, Katerina Blackmar; costume consultant, Robin Allen; choreographer, Anne Egn; props, Kim Robichaud, Adrian Chaton, and Dell Charity; backstage ninjas, makeup, Gabriella Blackmar and Emelie Pennington-Davis; sound, Aiden Tappert; lights, Paul Hargrave. Production patrons: Tina Castañares, Matt Rankin, and Schlosser Machine.