The 2017 Solar Eclipse is a captivating event.
Though the path of totality crosses two hours' drive from Hood River, the Aug. 21 eclipse is a major natural event that seems to affect all of Oregon, and Gorge residents are making plans to see it that mid-morning.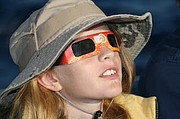 Few natural events in memory have raised as much anticipation as these two minutes of celestial-caused darkness.
At Hood River News, we'd like to know what you did to observe the eclipse. Whether you'll be in the path of totality, or near it, tell us about your eclipse-watching party.
Photos are also welcome — it could be the eclipse itself, or preparations, reactions, or any special circumstances.
Send your comments with a few details about what went into it and made it special — 100 words or fewer, please — with photo attachment, to hrnews@hoodrivernews.com.
Send them in Aug. 21 and we'll publish as early as our Aug. 23 edition, and post right away some on hoodrivernews.com.
And, whatever you do, please wear protective eye-wear.