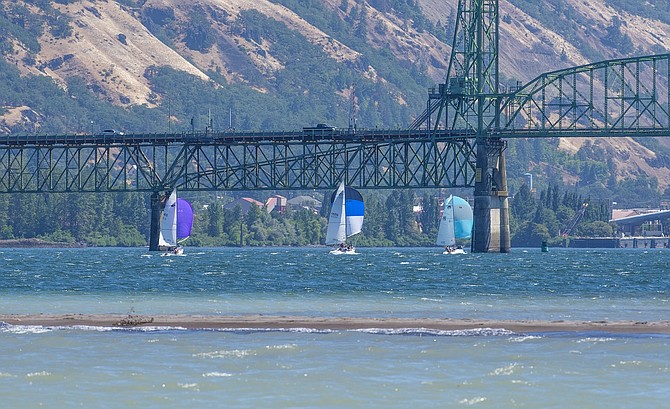 Doug Archbald had this idea 10 years ago to bring downwind sailing competition to the Gorge and ever since then, he and the Hood River Yacht Club have put on an event during the summer season known as the Double Damned.
Sailors from all along the west coast showed up to the Gorge this past weekend to compete in the Double Damned event, a 36-mile-long race for sailboats that begins in Cascade Locks and ends in The Dalles.
This course is known for its spectacular wipeouts, treacherous wind conditions and high speed downwind sailing, all reasons to make sense of why Karl Robrock explained this event as, "The race that attracts adrenaline junkies."
Robrock, a sailor from San Francisco, has competed in this event for the past four years. Every year he and his boat come out of the event with at least a few scratches or broken parts, but what else is to expect when the motto for this race is, "Let's take your boat."
However, of the dozen boats that raced on Aug. 5, none were damaged by any rough circumstances as conditions were more moderate this year than those in the past.
These moderate conditions made it nearly impossible for any of the competitors to break the course record of 3 hours and 18 minutes. First place this year was boat Fayaway with Gay Morris as the skipper, finishing with a time of 3:48:23.
The winner of this race is rarely who crosses the finish line first — in fact, Morris and his crew were the second to last boat to arrive at the dock in The Dalles, which is why this isn't your ordinary race; as Robrock explained it, "This is a ratings game."
There are a variety of different boats raced at this event. Some are a lot faster than others and others are designed differently as an advantage over other boats, which is why there's a handicap system placed. This system adjusts for the quality of the boats being race to ensure that the best sailor wins, not the best boat.
Before the results were finalized, sail boat Bat Out Of Hell, with Lance Staughton as the skipper, made it to The Dalles first, arriving a little after 3 p.m., but as boat ratings were factored in it turned a first place finish into 10th.
Upon calculation of ratings, boat Space Toaster and skipper Dave Gee, along with Robrock and others, took home second place with a time of 3:56:52. Behind them was Brian Petros and his boat Electric Mayhem finishing at 4:01:42.
After the event, everyone gathers at the Hood River Yacht Club for a party filled with family, friends, and food. There's not really much conversation that goes on about the placement of teams at this gathering, although this is where the ratings calculation is done by Archbald, rather it's a time to reflect on the experience.
Each year this course provides a different task. This year crews had to overcome moderate winds and next year's conditions will be a surprise, but one thing that will always hold certain about this race is the amazing adventure this course takes you on.
"This year's Double Damned was simply a beautiful downwind sail through some of the most gorgeous landscapes this country has to offer, accompanied by great people and a party at the intimate Hood River Yacht Club," said Robrock. "Double Damned has become a pilgrimage."