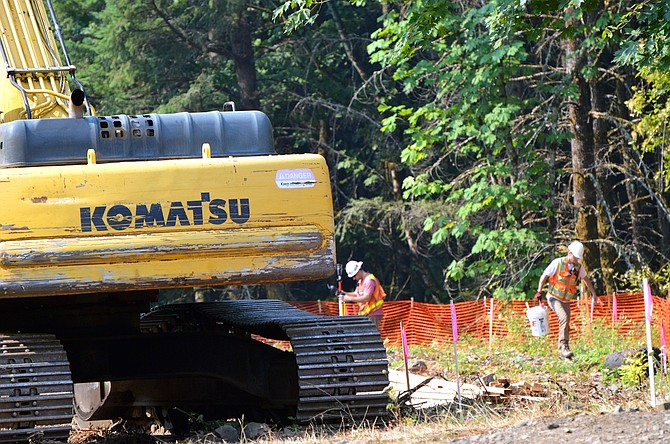 Eastbound drivers on Interstate 84 have noticed crews hard at work building a new segment of the Columbia River Historic Highway State Trail, at Wyeth.
The new 3.3-mile piece of trail, set for completion in fall 2019, begins at Exit 51 off Interstate 84, just west of U.S. Forest Service's Wyeth Campground, and extends west over rugged terrain to Lindsey Creek, about 12 miles west of Hood River.
The trail is part of the larger effort to reconnect the old U.S. Highway 30 as a paved bike and pedestrian trail from Troutdale to The Dalles. Roughly five unconnected miles of former highway remain.
One of the final unfinished portions: the Lindsey Creek-Wyeth trail.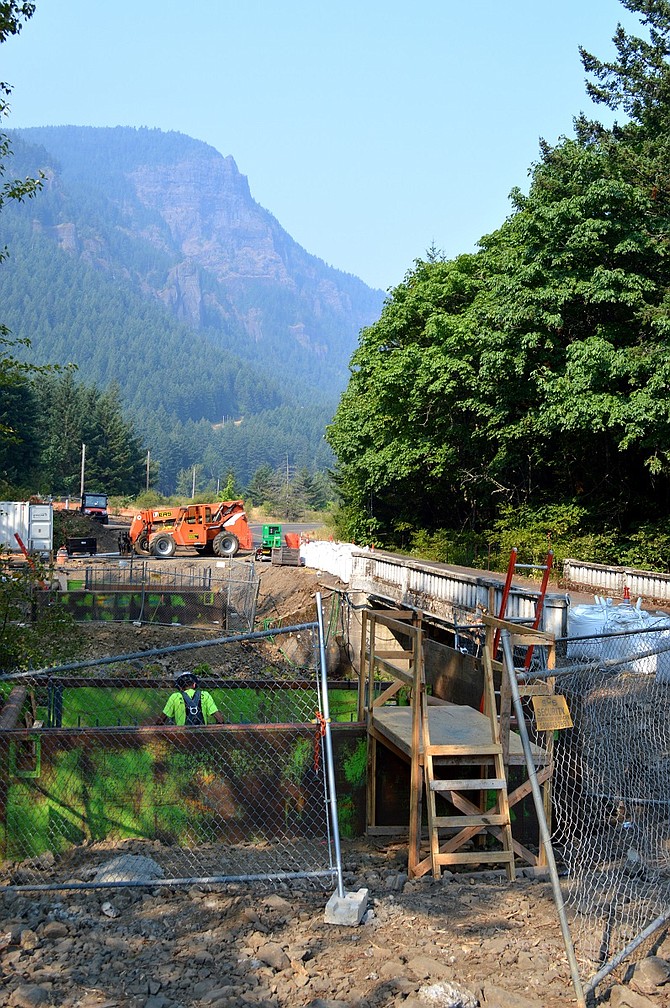 It will tie into a recently finished waterfall stretch from Starvation Creek to Lindsey Creek. The smaller 1.2-mile route, dedicated last fall, is ADA accessible and offers views of Starvation Creek Falls, Cabin Creek Falls, and Hole-in-the-Wall Falls.
Susan Hanson, Oregon Department of Transportation community affairs coordinator, said Aug. 2 teams are launching work on a new Gorton Creek bridge, near the I-84 Wyeth exit.
"We finishing up the grubbing and clearing that (area)," Hanson said, referring to site preparation and tree removal near Wyeth Campground.
ODOT is overseeing the trail project, a multi-jurisdictional effort also uniting the Federal Highway Administration — which is managing construction — and the Forest Service. Once finished, Oregon Parks and Recreation District will manage the trail.
Construction began in earnest on the Wyeth trail segment in July. About 15-20 staff with contractors and sub-contractors for the project are working during weekdays.
Workers are installing the foundation on the new Gorton Creek bridge, one of the project highlights. Another will be the 500-foot Summit Creek Viaduct — a land bridge — which will be visible from I-84.
"The viaduct will blend with the Gorge's natural landscape and the design detailing will draw upon the iconic structures found along the Historic Highway," ODOT's project website states.
Wyeth Campground, by Gorton Creek, will become an east launch-pad of sorts. The trail segment will begin with an improved trailhead and bike fix-it station.
According to plans on the ODOT website, the trail will cross Shellrock Mountain via a squeezed in trail, re-connect to old parts of the highway with the Summit viaduct, and then meet the old "mossy road" and attach to the Lindsey Creek path.
The main tasks at hand this summer are installing Gorton Creek Bridge and viaduct footing excavation and foundation installation at Summit Creek. The latter will require a concrete wall removal.
Another aspect of the project will be brush clearing and grubbing throughout the project corridor.
Hanson expects work on the trail will keep chugging along in various stages, depending on weather, until the estimated finish at the tail of 2019.