A man from Cascade Locks pled guilty Wednesday to trying to kill the mother of his two children at the family's home.
Kennedy Robinson, 24, was sentenced Aug. 9 to seven and a half years in prison for attempted murder.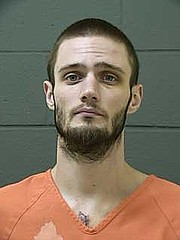 Robinson also pled guilty to two felony counts of child neglect. He and the adult victim, also 24, were in a domestic partnership, living with their daughters, ages 2 and 4, when the attempted killing took place.
"There's not (just) one victim here — that's why there's three charges — and he got the very minimum that you would get in this case," Deputy District Attorney Carrie Rasmussen said by phone Thursday.
Robinson's daughters have been placed in foster care, according to a juvenile hearing following the criminal proceedings.
Criminal charges against Robinson stemmed from a June 17 fight at the family's trailer home in the 600 block of WaNaPa Street in Cascade Locks, in which two residents — Robinson and the adult victim in the ensuing attempted murder case — were flown by helicopter to a Portland hospital for medical treatment.
Two days later, hospital staff told a reporter neither patient was still at Oregon Health and Science University.
Robinson was arrested June 22, and indicted the next month on 13 felony counts.
This week, Robinson appeared before Judge Karen Ostrye via video from jail and admitted in a plea petition that on June 17 he "did attempt to cause the death of" the victim.
Rasmussen said Robinson used a frying pan, a gun, and a knife to harm the victim.
In court, Rasmussen testified, "While not any one injury was significant enough to cause death, the sheer multitude of the injuries, and frankly the number of weapons the defendant used … and the cruel intent with which some of the physical contacts were made — satisfies the state that there certainly was an intent to commit the crime of murder."
Both children were at home when the violence occurred, according to court testimony. When the girls were rescued from the scene, there was blood on them and they tested positive for cannabis, Ostrye said.
Ostrye said the protective custody report in the case was one of the worst she had seen as a judge and practicing lawyer.
"These are very serious crimes that you've committed," Ostrye told Robinson. "The effect on your daughters and the trauma they have experienced is extreme."
As part of his conviction for child neglect, Robinson admitted to exposing two minors to THC (tetrahydrocannabinol), the chemical compound in marijuana that causes a high.
Rasmussen said there was an oven that had been used for cooking hash oil at the home.
Robinson's children were placed in out-of-family foster care. Human services and health officials were present at the juvenile custody hearing concerning the children Wednesday.
"The mental injuries are going to be lifelong … I hope through the process they get the treatment they need," Rasmussen said.
Robinson expressed remorse for his actions, apologizing to his family for his crimes.
"I'm going to use this opportunity to better myself, to reflect on my life and learn from it … my family will always have my heart and that will never change, no matter what," Robinson said.
Attempted murder, a Measure 11 offense, carries a minimum of 90 months in prison.
Robinson will be transferred to Oregon Department of Corrections for his sentence.