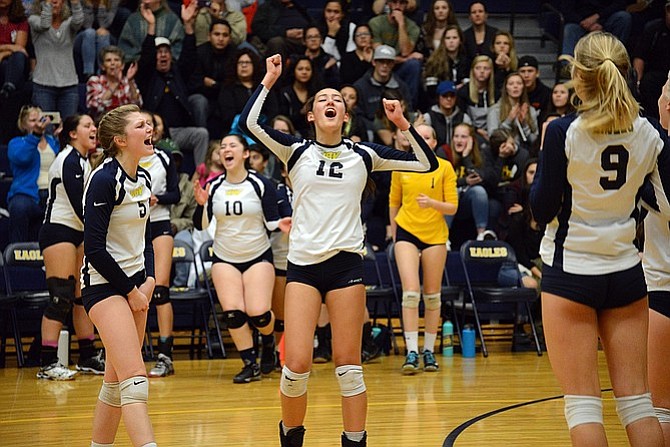 Come out to Henderson Stadium this Friday, Aug. 18 to watch and meet your 2017 HRVHS fall sports players at the annual Blue and Gold BBQ.
The event, however, kicks off at Westside Elementary as the HRVHS Boys and Girls Soccer teams scrimmage from 3-5 p.m.
Coached by Jaime Rivera, the boys' soccer team is coming off yet another season that saw much success. They finished the 2016 season with 15 wins, 2 draws, and 1 loss, their only loss coming in the quarterfinals of the 5A State Tournament. Losing 15 seniors to their 23-man roster will be tough to replace, but year in and year out, the next generation of players have always been ready to step up and continue the program's dominance felt throughout the state.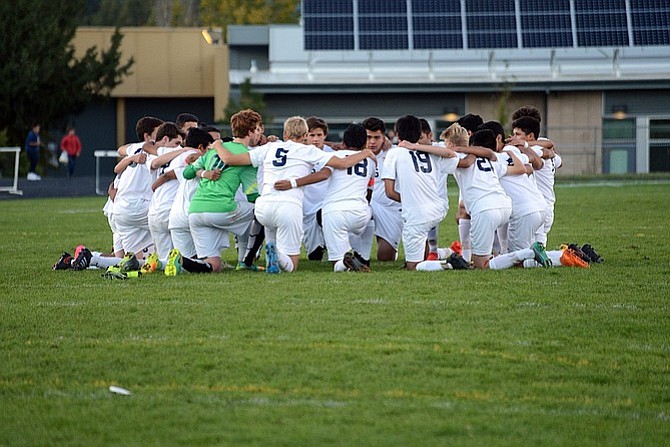 Which make concerns for this year's team low, if any, as they will have the talent to compete not only for a conference title, but for a state title. The Eagle's boys' soccer team opens their 2017 campaign at McLoughlin on Thursday, Aug. 31 at 7 p.m.
The girls' soccer team, on the other hand, have 12 of their 19 players returning from last season's 11-4 showing. Before heading into the state tournament, they finished off the season with a conference championship, going 6-0 in that division of play. Although last season ended with a first-round exit in the state playoffs, the experience these 12 incoming players have acquired will be beneficial, as Head Coach Kevin Haspela gets his players ready for their season opener at home against Hillsboro on Tuesday, Sept. 5 at 4:30 p.m.
As the soccer scrimmages come to an end, volleyball scrimmages will take place from 5-5:30 p.m. at Vannet court, followed by a parent meeting.
Last year, the HRVHS volleyball team went to the 5A state playoffs for the first time since 1993. They finsihed with a record of 8-2 in conference play which earned them a Columbia River conference title. They ended the year 23-6-1, following their second-round exit to the number one seed in last year's state playoffs. This year Head Coach Scott Walker has nine players from last season returning to the floor in hopes of making it back to the state tournament for the second year in a row. On Tuesday, Aug. 29 at 6:30 p.m., the volleyball team will open their season at home against Redmond High School.
If, three hours into this event spectators begin to feel hungry, that's probably because now it's dinner time; luckily, the Eagles will have them covered. After volleyball scrimmages, the barbecue dinner at Henderson Stadium will begin around 6 p.m. and for those planning to eat, they will need to buy a dinner ticket for $7. Dinner comes with two hours of football scrimmages and an introduction to all the fall sports teams by their respective coaches.
The first of those teams, cheer, will be introduced at 6 p.m. by Head Coach LisaAnn Kawachi. As the cheer squad is introduced, JV football will scrimmage for two quarters. After cheer, Haspela will introduce this year's girls' soccer team.
Then the HRVHS varsity football team will take the field at around 6:30 p.m. for a four-quarter scrimmage that will carry on until the event is over, with the third-quarter being a short scrimmage for the freshmen team. Head Coach Caleb Sperry and his Eagle football team last year had a tough showing, going 0-10 during the 2016 season, but with some changes made to this program during the off-season, they look to put 2016 behind them and focus on the year ahead.

After the start of the scrimmage, varsity and JV volleyball teams will be introduced by coaches Walker and Meighan Frazier, followed by JV football Head Coach Jeremy Dyal introducing the junior and sophomore athletes and Branden Bertram introducing his boys and girls cross country team for the 2017 season.
While the freshmen get ready to take the field for a scrimmage in the third quarter of the Blue and Gold Game, the cheerleaders will give you a first-look at their squad with a performance.
Once the performance is over, Rivera will introduce the boys' soccer team around 7:05 p.m., followed by Head Coach Jon Hiatt introducing the freshmen football team and Dave Robinson and Kellie Dunn introducing boys and girls water polo.
The night will end with coach Sperry introducing the senior football players, and a buzz of excitement surrounding Hood River Valley High School athletics as competition begins at the end of this month.