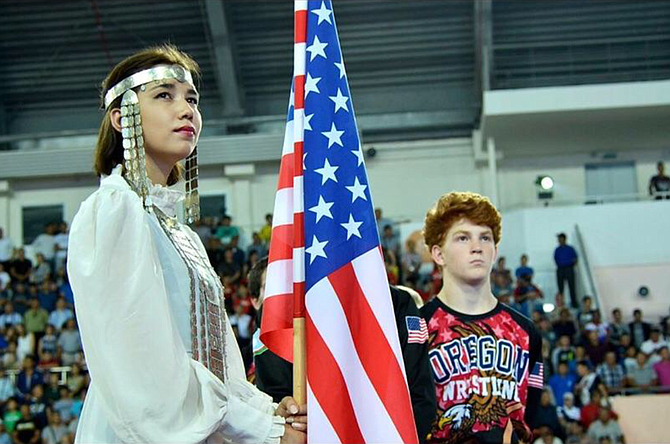 Ryan Zeller, a junior wrestler at HRVHS, is back home after a 15-day journey to Russia with the Oregon Wrestling Cultural Exchange team.

But the experience goes beyond 15 days, as that will last forever.
Zeller flew into Moscow, Russia, on July 26 and when he left, "everyone was nervous," said Zeller. "Well, honestly, it was really just my mom." Although moms always have a good reason to be concerned.
When Zeller arrived, Russia had just deported some American politicians, and with current relations between these two nations, this wasn't the best news. However, "that day we just went to the hotel and stayed there for the day, kind of laying low," said Zeller.

Once everything was clear, the experience of a lifetime began.
After Moscow, the team of 15 wrestlers from Oregon flew out to Yakutsk, Russia, for the first of their three dual meets. At Yakutsk, they used a boat to travel to the village where they would train and participate in a dual meet.
Besides training in the summer heat with no air conditioning and mosquitos making life difficult, Yakutsk was a good experience for Zeller. "The people were really nice to me there and the two days of work that we put in at Yakutsk really prepared us for the competition in Amga, as we got a little taste of what wrestling in Russia was like," he said.
Amga, Russia, is where the team finished their last two dual meets. He described the scene here as "unreal."
Zeller would practice in the morning for some time with other wrestlers in the area and after he got cleaned up, he would come back and kids would still be out there who were practicing with him three or four hours earlier. "That's the difference between wrestling here and in Russia," said Zeller. "There it seems they're in the wrestling room every day and hour of the week. They don't get out of the wrestling room. I went out there probably three times a day just to go check it out and take pictures, and the kids that were in there at the beginning of the morning stayed there all day, training non-stop. That's what they do, it's a lifestyle."
Zeller got to experience this lifestyle as he learned from some of the "best wrestling minds," in the last 11 days of his trip. Zeller was introduced to and instructed by Olympic, World and Regional wrestling champions as he was preparing for his last two dual meets.
Once all the wrestling was over, Zeller and the other 14 wrestlers from Oregon came back with three trophies. In Yakutsk, they earned second and in Amga they placed second and first as a dual meet team.
After some time to reflect on his experience, Zeller explained that the difference between American and Russian wrestling style is an offensive and defensive mindset. "In the U.S., wrestling seems to focus a lot on offense, but in Russia they're really defensive. They'll wait until you make a mistake and they'll score off your mistakes."
"Forcing you to mess up is how they get in your head because now you're watching your every move, it's really insane. I took all this knowledge in, but I'm not telling my secrets," he said.
Head Coach Trent Kroll of HRV wrestling believes that, "This trip benefits both Ryan and our team as he comes back bringing a different kind of aspect to wrestling and leadership that you really only see out in Russia."
But as we're left with only hints of what's to come, there's nothing to do besides patiently wait until the winter season to see what Zeller has in store.