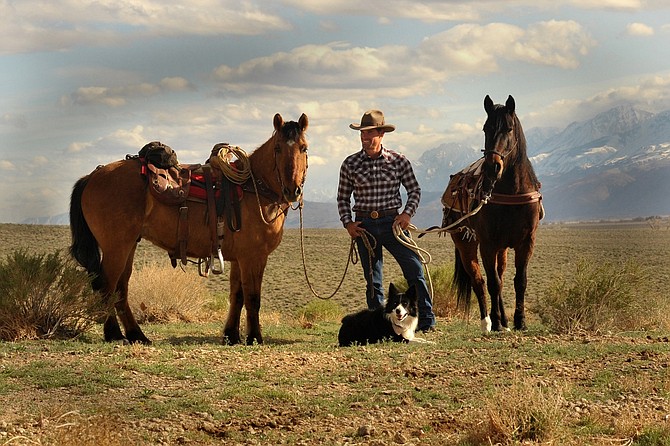 On Feb. 3, 2014, Gary Peterson lost his life to an 18-year battle with Spinocerebellar Ataxia (SCA), a condition characterized by progressive problems with movement that attacks the immune system. Inspired by the courageous life his father lived, his son carries on his legacy.
Before Gary died, his son Trent Peterson said that he told him and his two brothers one thing that he wanted them all to live by: "Whatever we do in life, we have to always do it with a purpose."
After his father passed, Trent went for a walk to clear his mind, but his father's words kept coming back to him. "Always have a purpose."
Those words have stuck with him and, "They're the driving force for what I am doing," said Trent.
Using Gary's life and courageous battle as his inspiration, Trent, along with his three adopted mustangs, have been on a journey the past five-months along the Pacific Crest Trail, a 2,659-mile long trail stretching from Mexico to Canada.
"I'm doing this ride to generate hope and awareness for the community of 150,000 people across the United States battling this disease that's a thief of life," said Trent. This journey is a reminder "to those who need hope, to give a voice to those who have none and to educate along the way. I ride for Gary, I ride for the mustangs, and I ride for the wild in us all."
"The Wild In Us" is the name of the journey and it was created by Trent to remember Gary and document the ride.
Before his journey, however, Trent had to make some sacrifices.
Shortly after his father passed, Trent quit his job as a wine maker and spent seven months training three wild mustangs that he adopted from Litchfield, Minn. "When I adopted the mustangs, I was their first human interaction, so training them took a lot of time out of my days," said Trent. "But once I started to learn that they operate by thinking, and not by going off fear is when I created a bond with these horses that can now not be undone."
The reason Trent chose the mustangs as his companions is because they're "the perfect horse," he simply put. A mustang can travel long distance and doesn't have to rely on food and water for 40-50 miles, "It's the strongest horse that can survive," he said.
Two thousand miles into his journey and Trent has arrived in Cascade Locks. On Saturday, Aug. 19 at 10 p.m., he'll be crossing the Bridge of the Gods as he goes forth onto his journey.
"I'd be grateful to anyone interested in helping the reason of this ride and for those to follow the rest of my 600-mile journey to Canada," he said.
If interested in learning more about this journey or in donating to help the cause, people can visit www.thewildinus.org, "because without everyone helping me along the way none of this would've been possible." All the donation money will go under his father's name and will be given to the Ataxia Foundation, which raises funds for ongoing research projects that are trying to find a cure for Spinocerebellar Ataxia.