Bogey, "the happiest Lab mix around," has been selected by volunteers as Adopt A Dog's adoptable pet of the week. He's about 88 pounds and 2 to 3 years old. Bogey is enthusiastic about everything!
Grab that leash and he'll jump for joy right out the door! His leash skills are getting better and better every day.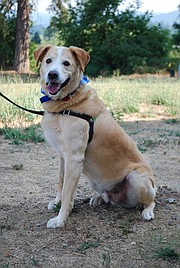 He loves everybody and will give a full body wiggle when he sees you. Car rides are great because he loves the wind in his fluff. Swimming is awesome because, come on, he's a Lab! Toys are the GREATEST, especially if they squeak!
Bogey is a smart and happy boy who is learning his doggy manners, so he will need a family that will continue to be consistent in training. He is a cat chaser, so he should not go to a home with one.
Bogey is current on shots, microchipped and neutered. The adoption fee for Bogey is $205.
•
Adopt A Dog is run by a small group of volunteers, and, since many of the dogs are in foster care, they ask that applications be turned in from the website (hoodriveradoptadog@gmail.com) ahead of time; they'll be in touch to schedule a meet and greet and answer questions.

Adoption hours at Hukari Animal Shelter in Odell, 3910 Heron Drive, are Wednesday, 5-7 p.m. and Saturday, 9-11 a.m. Applications can be downloaded and scanned or emailed to hoodriveradoptadog@gmail.com, or faxed to 1-877-833-7166.
They offer 24PetWatch microchips, which include free registration into the 24PetWatch pet recovery service. For more information visit www. 24petwatch.com, or call 1-866-597-2424.