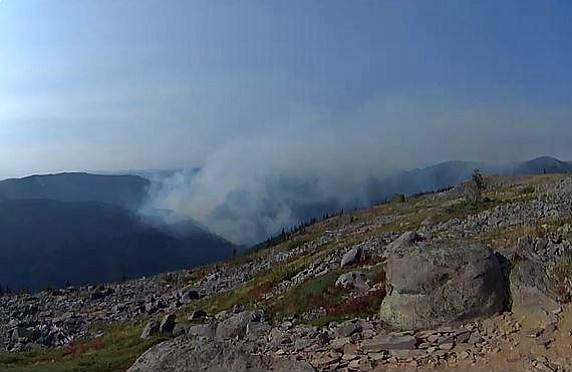 The U.S. Forest Service has extended its closure of Eagle Creek Trail to High Bridge — located 3.3 miles from the trailhead — for public safety due to the growth of the Indian Creek Fire, according to a news release.
The closure was extended by two miles.
The Forest Service made the decision to expand the closure after an infrared detection flight early Aug. 23 showed the fire had extended northwest, increasing to 293 acres. On Thursday morning, an infrared flight found that the fire is now burning 324 acres.
The fire was first detected on steep slopes and cliffs west of Eagle Creek Trail No. 440 on July 4, in steep terrain. While firefighters fought the fire using air support, it smoldered on roughly 80 acres of Mt. Hood National Forest lands for weeks without spreading.
On Aug. 22, the fire began burning more actively as winds increased. Four Canadair CL-415 "Super Scooper" airplanes dropped water on the fire, and on Aug. 23, a Sikorsky Sky Crane was added, enabling more precise water applications.
The main focus remains public and firefighter safety, according to the Forest Service.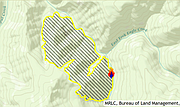 The Forest Service is expanding its closure order to include part of Eagle Creek Trail No. 440, from High Bridge (to the north) to its terminus at the junction with the Pacific Crest Trail. The expansion adds roughly two additional miles to the current closure, including the following sites: Wy'east Camp, 4 1/2 Mile Bridge, Skooknichuk Falls, Tenas Camp, and High Bridge. Nearby trails, roads, and campgrounds that remain closed due to the fire include: Eagle Benson No. 434, Indian Springs Trail No. 435, Eagle Tanner Trail No. 433, Tanner Butte No. 401, Chinidere Cutoff No. 406M, Forest Road 1310 on Mt. Hood National Forest, Wahtum Lake Campground, and Indian Springs Camp.
A crew is posting closure signs in the area and sweeping it to make sure visitors are not within the closed area. They are also contacting nearby hikers, tracking their numbers and travel plans. Please respect the closure for your own safety, as well as that of the firefighters.
The nearby Pacific Crest Trail remains open. The first 3.3 miles of Eagle Creek Trail, including Punch Bowl Falls, also remain open.

The latest updates and a map of the Indian Creek Fire Closure can be found online at inciweb.nwcg.gov/incident/5403.