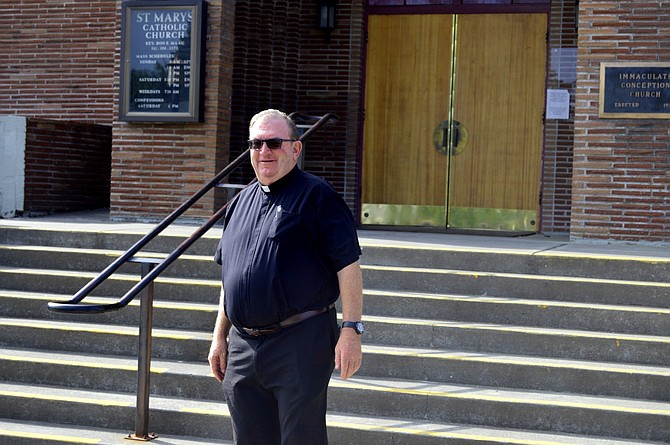 Longtime St. Mary's Catholic Church Pastor Rev. Ron Maag retires Aug. 31 after 19 years in Hood River.
His tenure at St. Mary's is somewhat unusual — Catholic priests generally serve six years, with reappointment possible for another six before being moved to another parish.
But Maag stayed for one simple reason: He saw the need for a new, larger church. So, in 2011, he began the first of what would be two building campaigns.
"Two times we tried to get a building built," he said. "My extension was due to the church."
Though so far unsuccessful, the need is still there. Overflow can be an issue in the church, which was completed and dedicated in 1952. There are 1,290 registered families — and a total number three or four times that, by his estimates.
A video system inside the church links to a television screen in the basement to provide more seating, and staff has also rented space at the Expo Center, and later the Hood River Armory, for special services such as Ash Wednesday and the Feast of Our Lady of Guadalupe, which traditionally draw large crowds.
Because of the growing number of parishioners, Rev. Saul Alba Infanta was assigned to St. Mary's five years ago as an associate pastor; the two share responsibility for all Masses. But for his first 14 years, Maag was the lone celebrant, with two deacons — Lou DeSitter and David Raj — assisting. Raj is still a deacon, and will retire with Maag after 17 years of service.
Masses have been added to accommodate the growing congregation, and five are now said each weekend: Three in Spanish and two in English. That doesn't include Saturday weddings and quinceañeras or Sunday baptisms.
"The church is overused now — we're at the maximum number of Masses," he said.
He's also seen an increase in numbers for First Communion and Confirmation sacraments, adult education classes and Prayer Group participants. And so the building campaign continues, with links on the church's website.
Space issues aside, another big change he's seen as St. Mary's pastor is the unification of the Anglo and Spanish communities. That's an advantage of being in one place for so long, he added.
"It's hard to bring two communities into one," he said. "In my time here, we were able to unify both cultures into one church. We celebrate bilingually — daily Mass is in Spanish and English, and we deliver bilingual homilies," he said. "We have fiestas. We appreciate each other's cultures … It takes time to do that."
Maag attended Notre Dame University for 10 summers, earning a Master's Degree in theology and certification in biblical studies. He also spent four summers in Morelia, Michoacán, Mexico, and San Antonio, Texas, studying Spanish.
"I learned Spanish and I learned the culture," he said. "A lot of Hispanic ministry is knowing the culture as well as the language."
Diversity in a community is important, he said.
"Diversity promotes health. That's what I learned at Notre Dame — you study with people from all over the world in summer classes, and you have a bigger picture of the universal church, you have the opportunity to visualize the universal church …
"My last class, I took medical ethics, and the sharing from people in the various ministries — you learn a lot."
---
Maag was ordained in his hometown of Vale, Ore., on Aug. 14, 1978, in the school gymnasium — the celebration had to be moved from the local church to accommodate the crowd.
"Eight hundred came to my ordination in Vale," he said. "I was ordained for the community."
He's worked "all over" the Baker Diocese, of which St. Mary's is a part, beginning at St. Peter's in The Dalles as an associate pastor. He's also served at St. Pius X in Klamath Falls — teaching religion at Sacred Heart school and working as a Newman House chaplain at Oregon Institute of Technology — and as a traveling priest for Condon, Spray, Fossil and Arlington. He returned to St. Peter's from 1986-1998, and then moved to Hood River.
Though retiring, he plans to fill in for vacationing priests in other parishes, and possibly work with Marriage Encounter.
"I'm still discerning my future ministry," he said. "There will be some travel, and some taking care of my health."
The incoming priest will be Rev. Tomy Chowaran, who comes from John Day; his first day will be Sept. 1, although he came to Hood River Aug. 23-24 to meet St. Mary's staff, attend a pot luck with parishioners, and say daily Mass. Alba Infanta will continue to serve as associate pastor.
"I have a lot of gratitude, not only for the faith community, but for the entire Gorge — Hood River, White Salmon, The Dalles and Cascade Locks," Maag said. "Just the way the community cares for people, be it in the hospital, shut ins or hospice — it's really about taking care of people.
"I'm a native of this diocese, and I've worked all over it," he said. "I appreciate Oregon, and I appreciate the diocese. I've worked for four bishops and I appreciate the support of Bishop Liam Carey and the other people in the diocese who have helped me serve the people."